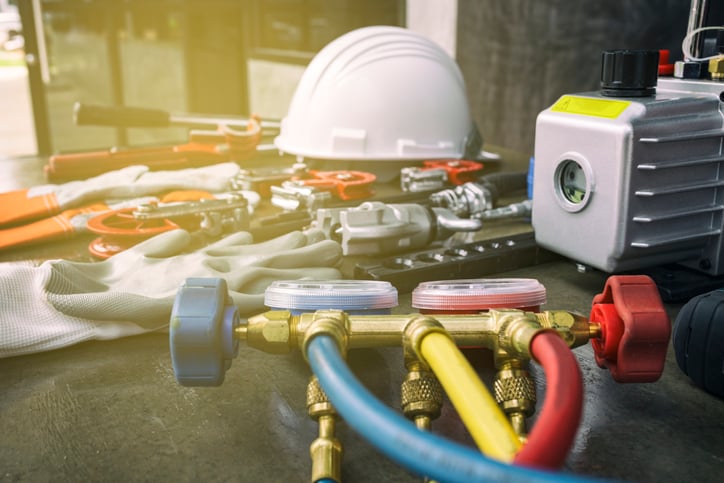 The turmoil of 2020 shut down offices, dampened customer spending, and paused plans for many HVAC companies. The year was chaotic and difficult to plan for as companies were pummeled by everything from shutdowns and business closures to social distancing and sluggish spending. However, as businesses reopen and -demand starts trickling back, there are five ways HVAC companies can drive more sales in 2021.
1. Explore New Markets
When COVID-19 recedes, it will leave the market forever changed. HVAC companies can speed ahead of the competition by embracing innovation, accepting new technology, and spotting trends early.
For instance, air filtration may open up a new stream of interest going forward.
Air filtration, a $12 billion industry in 2019, is now expected to hit $20.6 billion by 2026. As more and more customers worry about air quality and safety, the air filtration market could spark new opportunities for HVAC companies to pull in more profit.
Of course, this is just one example of a new market that could surface in the wake of COVID-19. As companies reopen offices, HVAC leaders can use software and internal figures to identify shifting customer demand. From there, you can adjust processes to meet that demand head-on.
2. Squeeze More out of the Workday
There's good news on the horizon for HVAC companies. Estimates suggest global HVAC market revenue will jump past $68 billion in the next five years. However, customer spending could swing wildly in 2021. Although it's likely customers will start spending more later in the year, people may be cautious early in 2021 as offices slowly open in spurts.
Lulls throughout the year give companies solid opportunities to train employees and bridge the skills gap. By using downtime to educate employees on software or by giving them on-the-job training, you can lift customer satisfaction and prepare for higher demand down the line.
3. Control Your Own Growth
During the pandemic, it may seem like HVAC companies have no control over demand. However, for the companies that come out ahead, it will be an opportunity to control your own growth proactively.
How?
Start by using software to identify broader HVAC trends early, adjust, avoid market pitfalls, and determine customer needs. Software can also shed light on costs and help you set more precise job costing. By poring over key operational figures, you can see the full scope of your businesses expenses—including finances as well as productivity. That way, you can identify what jobs to avoid and lay out more accurate, and more profitable, job costing.
4. Get to Know Your Technology and Processes
It's important to take a deep dive into your company's business software and processes—especially during times of uncertainty. In 2021, HVAC companies can craft a more stable financial environment by digging into the way their operation is running.
For instance, software can improve your company's efficiency and productivity by giving you full control over your scheduling, dispatching, and tech performance. Because dispatchers and schedulers can track techs in real time, it's easier to deploy the right tech to the right job without wasting time on callbacks.
HVAC companies are also realizing that software allows internal offices to match techs to jobs based on proximity, skill set, and qualifications. That all leads to connecting the right tech to the right job with the right part—boosting customer satisfaction along the way.
Ultimately, focusing on your business software and processes illuminates ROI at every corner of your business. With built-in reporting and accounting that links your service operations directly to your general ledger, all-in-one software reveals new revenue streams that may not be obvious otherwise. It also provides a clear look at the long-term health of your business and the best path to growth.
5. Build out Partnerships
As uncertainty looms in 2021, HVAC companies can use long-term partnerships and a focus on long-term business to beef up their bottom lines—and add stability to the business. As the market and customer needs shift, you can uncover and unlock new revenue streams by forming new partnerships. Partnering with innovative companies lets HVAC companies meet emerging service needs head-on, and these business relationships give you access to fellow experts who are tracking industry trends.
One of the best ways to solidify partnerships is to focus on contract services and access field service software that simplifies service contract management. Not only does this technology make it easy to manage contracts, but it also alerts your team and reminds customers when they're due for maintenance. As customers return to their offices and HVAC businesses start marching forward, those relationships can propel your balance sheets if the market is unreliable.
Partner with Davisware and Grow in 2021
As HVAC companies open their doors back up, they can rely on field service software to generate reports, streamline operations, and bring in more profit. However, not all software will get you the same results.
Davisware's end-to-end software lets you control, manage, and report on the entire company from a single platform. Davisware is also known as a cutting-edge partner that knows the HVAC industry and develops ongoing solutions to keep your company ahead of the competition.
Ready to see how Davisware HVAC software can help you streamline processes, grow the company, and plan for more profit in 2021? Schedule a demo today.