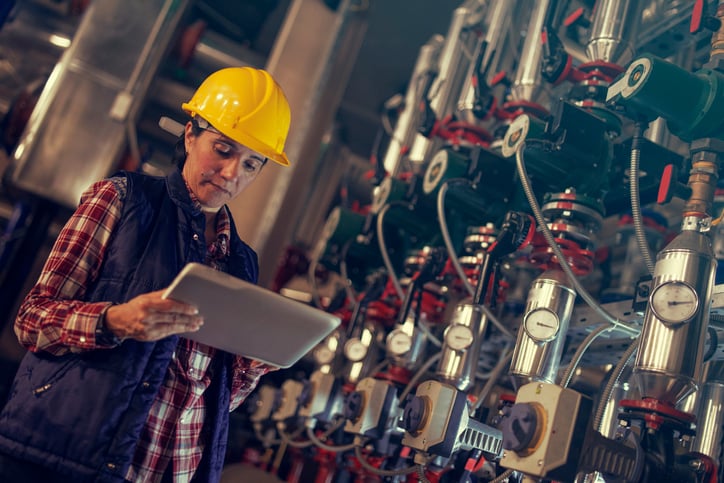 The commercial HVAC industry is quickly shifting, and the pandemic has converged with technology to spark new opportunities for HVAC companies. Those companies that can capitalize on HVAC business trends now have a chance to position themselves as leaders in the industry. In this article, we highlight these new trends and nail down the solutions HVAC companies can pick up for more growth and higher revenue in 2021.
In 2021, these are the top four HVAC business trends that are growing on the horizon, along with how you can use them to improve your business.
1. More Automation
Automation is flooding into the HVAC industry, and it's changing the way businesses across the industry operate. One of the biggest pieces of technology that's driving automation in the HVAC industry is field service software.
In 2021, field service software has the potential to increase both efficiency and revenue growth for HVAC businesses. Here are some of the biggest ways field service software is elevating HVAC businesses:
Job Costing
By choosing HVAC software that includes built-in accounting and all-in-one capabilities, you can track the cost and revenue of every job. That allows HVAC companies to revamp their processes for higher profit.
Service Agreements
Software now makes it easy for HVAC businesses to manage service agreements and stay on top of preventative maintenance. In the long run that reduces costs and improves customer retention.
On-the-Job Insights
Innovative HVAC software vendors are partnering with best-in-class technology providers, such as XOi to close the skilled trades gap and improve communication between techs and customers. When integrated with an all-in-one software, XOi technology lets techs capture and record live video footage on the job. In addition to drastically lifting a company's ability to train techs, this technology helps HVAC businesses get more out of top technicians and document the full extent of jobs.
More Employee Management
With features such as tech skill and certification tracking built into advanced field service software, HVAC businesses can identify their customers' needs quickly and match the right tech to jobs right away, lifting customer satisfaction and loyalty.
More Efficiency
All-in-one systems are letting HVAC businesses dig into accounting, control dispatching and scheduling, and manage parts and inventory—all on a single platform. This gives business owners the insights they need to streamline processes and grow their business faster.
Going forward, HVAC businesses can capitalize on this trend toward automation by embracing technology and taking the time to find the best all-in-one software solution for their operation.
2. More Renewable Energy Systems
Another commercial HVAC trend that's growing is the shift towards renewable energy. More and more, commercial HVAC customers are demanding smart home functionality and new technology that reduces energy consumption. In fact, the number of LEED-certified building projects has nearly doubled in the U.S. throughout the last decade.
In 2021, commercial HVAC companies can start preparing their teams to capitalize on this trend. Commercial HVAC companies can dig into more training now and equip techs with the know-how to repair and maintain renewable HVAC technologies.
The more familiar your HVAC company is with these renewable energy systems, the easier it will be to stay ahead of the competition when customers come to your business for support.
3. More Mobile HVAC Control
Another trend that's mounting in the HVAC industry is the use of remote devices. In fact, 80 percent of service organizations say they need mobile field service capabilities to improve their employees' efficiency and speed. There are several advantages to embracing this move towards mobile devices in the field:
More communication: Because field technicians are able to communicate with internal offices, it's possible to track techs in real time, view schedules, update job statuses, and match the right tech with the right equipment and the right job.
More efficiency: Field technicians now can access customer records, on-the-job resources, and guides that make it easier to complete the job the first time. Techs can also generate invoices and handle payments in the field, which can lead to happier customers and more repeat business.
Simpler scalability: Because mobile technology helps techs work more efficiently, dispatchers can take on more calls, deploy technicians faster, and set the company up to grow.
By equipping their techs with mobile devices that feed information into all-in-one HVAC software, companies can stay ahead of this trend, monitor progress, and tweak processes to increase revenue.
4. More Thorough Data
More than ever, accounting figures and performance metrics are helping businesses refine their processes, drive more revenue, and improve efficiency in the HVAC industry. In 2021, commercial HVAC companies can capitalize on this trend by using field service management to pull in more data about job costing, finances, tech efficiency, and the entire business.
In 2021, if HVAC businesses want to set up and analyze KPIs that lead to more profitable processes, it will be important to be sure data systems include built-in accounting. When businesses have built-in accounting and an all-in-one software program, information streams into a single hub. This makes it easier for HVAC business leaders to spot inefficiencies in workflows, identify anything clogging revenue streams, and adjust processes for more profit.
Set Your HVAC Company up for Success in 2021
By staying alert to these upcoming trends, HVAC businesses can enhance operations and stay ahead of the competition. Still, if you want to improve processes, lift profits, and scale effectively, it takes an all-in-one field service software solution and a partner dedicated to innovation. Davisware has long been empowering HVAC companies with all-in-one field service solutions that are built for the industry. Want to see how Davisware can set your HVAC company up for success in 2021? Schedule a demo for an inside look at how our technology can improve your business.