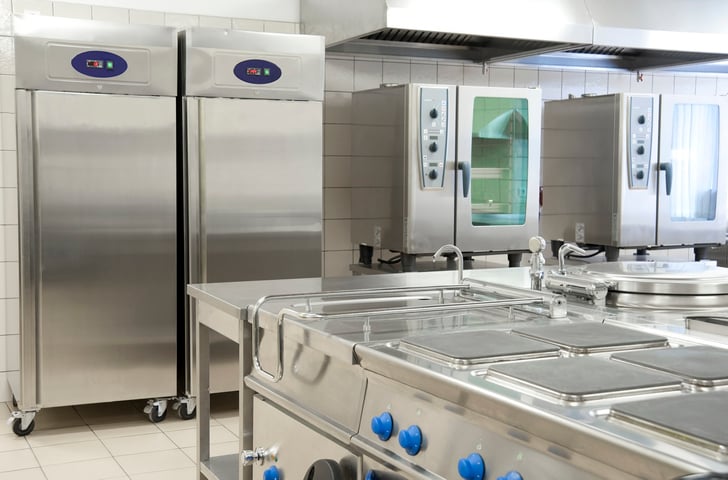 COVID-19 has wreaked havoc on the food service industry in 2020. Now, as the industry picks up the pieces and adjusts to a changing market, there's an opportunity for commercial food service equipment companies to take a breath and prepare for the future. By bracing for 2021 now, food service equipment companies can lift profit and edge ahead of the competition.
Wondering what's in store for the food service industry in 2021? There are several trends you can expect to surface in 2021 and some simple ways to use software to increase profits.
Commercial Food Equipment Service Needs to Be Flexible
In 2021, even as the pandemic fades, the commercial food equipment service industry will face a wall of uncertainty. As restaurants adjust to the vaccine's status, expect the restaurant industry to tweak processes to make up financial ground that was lost in 2020. After all, according to Technomic, restaurant sales will grow by 21 percent in 2021, but will still be around 11 percent short of 2019 sales levels.
Commercial food equipment services can use field service software to stay flexible and meet the evolving needs of their customers. Here are a few ways all-in-one software can keep service companies nimble in 2021:
Deeper Insights
Field service software that's built for the commercial equipment service industry lets company leaders monitor everything from parts and inventory to workflow, tech efficiency, and finances. In 2021, company leaders will be able to use those insights to spot changing customer needs, adapt, and stay in step with customer demand.
More Profitable Service Management
Advanced software is designed to help companies control and improve service management. It allows scheduling and dispatching teams to track techs in real time, match the right tech to the right job, and deploy service agents more efficiently.
More Contactless Services
Even when the pandemic subsides, customers will continue to be wary of viruses. More and more, they'll expect contactless options. Software lets companies handle everything from accounting, parts management, scheduling, and dispatching to invoice generation and payment in a digital space. That can give customers more peace of mind and boost satisfaction.
It's Time to Refocus on Operational Efficiency
The pandemic severely damaged restaurants in 2020. Sadly, those losses flooded into the commercial food equipment service industry. In fact, food equipment and supplies sales dropped by 30 percent in 2020's second quarter.
In 2021, commercial food equipment services will need to revamp their operations to bounce back stronger than ever. There are a few ways companies can learn to do more with less in 2021 and recoup losses:
Safeguard Against Future Cuts
By using software to set KPIs, measure efficiency, and streamline processes, companies can carve out paths to more profit. That way, if demand drops off again, commercial food equipment service companies won't need to make drastic cuts.
Use Proactive Tools
Software helps activate proactive processes in businesses. Because it gives leaders the insights to see where money is coming in, where jobs are losing money, and other process holdups, software shines light on opportunities. That means companies can stay ahead of the competition even if demand drops off.
Build Out Repeat Business
Field service software makes it easier for schedulers and dispatchers to deploy service agents efficiently. By providing everything from real-time job updates and tech locations to on-the-job resources and customer histories, software can help companies lift first-time-fix rates. Those positive results lead to repeat business and added stability in unpredictable markets.
Expect a Split in Full-Service and Fast Food Restaurants
As restaurants roll with the punches and adjust their service models, some restaurants are more likely to come back to life in 2021. For instance, quick-service restaurants (QSRs) are positioned to come back much faster than full-service restaurants, and many restaurants will tweak operations to move towards QSR models.
Commercial food service equipment companies can stay on top of these trends with a few moves:
Stronger Agent/Manufacturer Partnerships
To keep up with customer needs, service agents may want to start partnering with manufacturers that provide equipment used in the fast-food and convenience store arenas. By picking up training and certification from manufacturers now, service agents will be ready to offer excellent service as restaurants slide into QSR models.
Offer the Latest in Parts Management
As restaurants adjust business models, their equipment and parts needs will shift as well. Commercial food equipment services can stay ahead of new requests by offering the latest in parts management. The best software will give you instant access to parts, allow you to see what parts are in demand, and alert you to parts that are in low supply. It all has the potential to help commercial food equipment service companies meet customer needs more thoroughly.
Look to Go-Boxes
Software now lets you track parts as they move from these go-boxes. For food service equipment companies, that means your employees and customers know exactly where and how far out a part is. Ultimately, that helps you avoid delays, manage parts demand, and deliver better service for your customers.
Enhance Your Commercial Food Service Equipment Company
Commercial food service equipment companies that prepare for 2021 early will gain an advantage over the competition, and the right field service software will make it easier to adjust processes, increase efficiency, and scale—especially during unpredictable times.
Still, not all field service software is created equal. Davisware provides all-in-one field service solutions that are built for the commercial food service equipment industry. Our solutions are designed to help your business streamline processes, increase revenue, and grow.
Want to see how Davisware software can help you increase your company's revenue in 2021? Schedule a demo today.