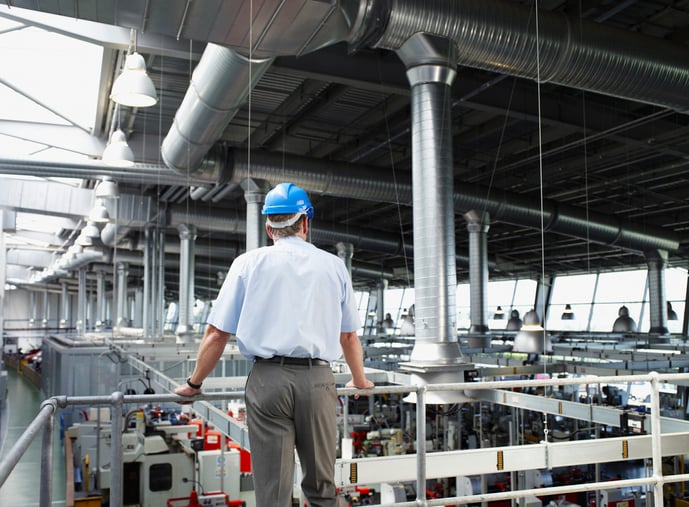 In 2020, HVAC companies were shaken by an unpredictable market. Unfortunately, as employees return to offices in spurts and spending remains shaky, 2021 is shaping up to be another year of uncertainty.
However, by bracing for the industry's biggest upcoming challenges now, HVAC companies can plow ahead to higher revenue this year and beyond. We've picked out the top five challenges HVAC companies will face this year, and we've laid out the easiest ways to overcome them. Here they are:
1. Inventory Management
Especially if HVAC companies are servicing small- or medium-sized businesses, this year's uncertainty could make it difficult to know what parts to keep in stock and what parts inventory may spike when companies ramp up business. That's because many small businesses are facing closures, office restrictions, and uncertainty of their own. One report found more than 40 percent of businesses have experienced temporary closures due to COVID-19.
Pandemic uncertainty could complicate inventory management as HVAC companies see a parts inventory shift, depending on who is closed, who is ramping business back up, and what businesses are still waiting. Less predictable parts management could add to an already difficult task of handing parts in 2021.
However, all-in-one HVAC software could help companies manage inventory in the face of challenges. That's because advanced software will make it easy to track parts inventory, measure parts demand, and monitor stock levels in warehouses and vehicles.
At the same time, software tracks pricing and organizes the documentation your company needs to return parts. As a whole, more efficient parts inventory tracking makes it easier to get the right part in the hands of the right tech for the right job—which fuels first-time fixes and higher customer satisfaction.
2. Job Costing
The pandemic has hit different companies and customers in different ways. Going forward, HVAC businesses may see small commercial operations shut down or reduce spending amid fears of short-term closures. This extra layer of unpredictability could make it harder than ever to determine accurate job costing.
The solution?
HVAC companies can nail down more accurate job costing by digging into customer data. By accessing more in-depth reporting on the full lifecycle of a job—from the moment an initial call is made to scheduling, dispatching, job completion, and billing—HVAC companies can get a handle on job costing even if business isn't consistent. Ultimately, that lets you see the true ROI of every job or project over time.
3. Accounting
Although most HVAC companies didn't experience extended shutdowns like many other businesses, many of your customers likely have been affected by COVID-19. That's created pockets of new spending patterns that could throw off your books. At the very least, 2021's sporadic openings and gradual rule restrictions will make it difficult to map out accounting.
In order to track accounting figures more accurately and efficiently, HVAC companies should look for field service software with the following capabilities:
WIP reporting: If your company isn't able to track work-in-progress (WIP) figures, it could throw off your accounting, especially if the market is volatile. The best end-to-end software will track both financial and operational WIP figures for you.


Net profit analysis: Most accounting software will track gross profit on some level, but most programs won't generate net profit reports, leaving your employees to sort through data and tally results on their own. However, advanced all-in-one software will automatically build accurate net profit reports that make it easier to plan for growth.


Automated and custom reports: The best all-in-one software will eliminate manual data entry that wastes time and leads to errors. That should include both automated and custom reports to push your company forward.
4. Bridging the Skilled Trades Gap
Although most HVAC businesses were able to continue pushing forward during COVID-19, the pandemic did contribute to hiring freezes, furloughs, and a down market. That all adds to an already massive skilled trades gap.
In 2021, there are a few ways embracing software can help HVAC companies bridge the skilled trades gap:
Matching techs to the right jobs: Software lets schedulers and dispatchers track techs, stay updated on job statuses, and deploy the most qualified tech to the job that matches their skill set. Schedulers can easily see tech locations, skill levels, and certifications, making it easy to assign techs to the job that fits their expertise.


More on-the-job resources: With mobile all-in-one software technology, techs can access job histories, product manuals, and other key resources to help them complete jobs right away.


More training opportunities: Some platforms, such as Davisware's software, will include

XOi technology integrations

. This video capture technology makes it possible for your most seasoned techs to coach less experienced techs through a job or conduct live training with real-time video images.
5. Managing Service Agreements
Even though experts expect spending to start picking up in 2021, businesses and individuals may not start spending again until late in the year. The bottom line? The year could see a financially unstable market riddled with spikes and dips. Although HVAC companies can gain stability through service agreements, without the right tools, many companies could run into massive problems juggling service contracts.
Field service software solutions can give HVAC companies more control over planned maintenance and service contracts in a few key ways:
More organized contracts: All-in-one software makes it easier to manage those service contracts that drive long-term business. Your employees spend less time inputting data or sorting through contracts and more time providing stellar service.


More visibility: Software can generate reports that reveal which service contracts are profitable and which ones aren't worth continuing. That makes it easy to get the most revenue and financial stability out of the service agreements you land.


Automated reminders: Advanced software will send out notifications to your employees and customers when it's time for maintenance. This helps you stay on top of those repairs that save the company money in the long run.
Setting Your HVAC Company up for Success in 2021
By adjusting for these challenges now, HVAC companies can carve out a path to more profit in 2021—and race ahead of the competition in the future. Want to see how all-in-one field service software can help your company surpass its goals this year?
Schedule a Davisware demo today to get an inside look at how the industry's most advanced all-in-one software works.