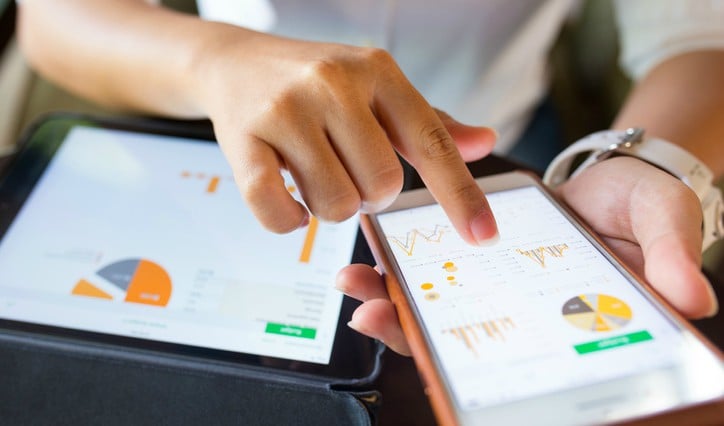 Every day, mobile technology is becoming more and more intertwined with the field service industry. For today's field techs, some of the most valuable tools for a job can't be found in a tool belt. They're HVAC apps on smartphones and tablets.
However, with so many apps out there, it's not always easy to know which ones will actually increase productivity, lift first-time fix rates, and drive profit growth.
That's why we sorted through the top HVAC apps for field techs and picked out the winners. Here are the best HVAC apps for techs to take with them on the job.
Best HVAC Apps for Diagnosing Jobs
It doesn't matter how experienced your techs are. If they're on a job, it's much easier to have an assistant right there to help diagnose repairs. The best HVAC apps will be such a resource. Here are the top apps that help field techs get to the bottom of repair needs:
HVAC Buddy helps HVAC pros diagnose and determine refrigerant charges. It includes calculations for airflow and cooling. Plus, you can access system status reports to stay updated on how a unit is running.
Need to make a conversion in a hurry? This app can save techs massive headaches. It provides unit conversions and lets you organize the conversions you use the most in a single spot for quick access. As a bonus feature, it also comes with multilingual settings.
When techs arrive on the scene and need to calculate a refrigerant charge, HVAC Check & Charge makes it simple. They can pull out a device and make quick calculations. This app is built for air-conditioning applications and provides a few options to choose from:
Subcooling
Superheat
Airflow
From there, just choose the system temperature and select latent and sensible environmental loads. With that, voila, the app will display the proper charge.
Best Apps for HVAC Repairs
Once a tech diagnoses a problem, the clock starts ticking. Customers, owners, managers, and techs themselves all want repairs to be completed quickly and thoroughly. That's the beauty of these on-the-job resources. These apps make it easier to fix units without wasting time with phone calls or online searches:
Temp Chart is perfect for technicians who need to compare temperature resistance. Just enter your temperature, and the app will show you the resistance values. It's a simple, easy, and fast way to make a fix the first time.
If you have a question about a heating, ventilation, or air-conditioning term, the Complete HVAC Dictionary will be a lifesaver. It includes more than 3,000 terms, and a quick reference guide to save time.
HVAC Refrigerant PT is all about making A/C repairs easier. It displays refrigerant pressure and temperature charts, along with the pertinent details about common refrigerants. It also lets you toggle between Celsius and Fahrenheit. Overall, it reduces guesswork and gives techs quick access to reliable info.
When it comes to duct sizers, HVAC Duct Sizer is one of the most popular tools out there. It includes a universal duct-sizing function and adjusts to different sizes, shapes, and specifications. That means less time doing math and more time to make repairs.
Refrigerant Slider is another handy tool that cuts down the amount of time techs waste searching for figures. You can use this app to calculate pressure-to-temperature ratios. It also provides important information about every refrigerant, including global warming potential (GWP) and ozone depletion potential (ODP).
Organization and Customer Satisfaction Tools
Want to improve customer satisfaction and the workday for techs? Start by giving techs every tool possible to streamline information. Whether it's keeping track of manuals, product information, or equipment, the best apps cut down the amount of time it takes to find essential information. Here's a list of our favorites:
Anytime you can reduce callbacks and keep techs from having to scramble around, the whole team will be happier. HVAC Equipment Locator helps cut out uncertainty by letting you track and share equipment info. That includes nameplates and maintenance data, so you can pass details on to customers quickly—making customers happier and plans more manageable. Davisware's field management software does this by tracking equipment by the serial number.
The CE HVAC Assist Mobile App is built for HVAC techs who work with Carrier products. It lets you track down prices in real time and includes information about stores when you need to call or grab extra information about a product. This is another functionality that is included in Davisware's field service software, done via Flat Rate integration so you get real-time price lists and accurate mark ups.
More HVAC Technology to Improve Your Business
With the best HVAC apps in hand, techs will be on course to a more productive, and more satisfying, workday. Still, if you want to fully streamline your operation, there's even more powerful technology out there—namely, field service management software.
Want to see how our all-in-one software can connect your team, help you organize workflows, and automate your most complicated processes? Schedule a demo today!