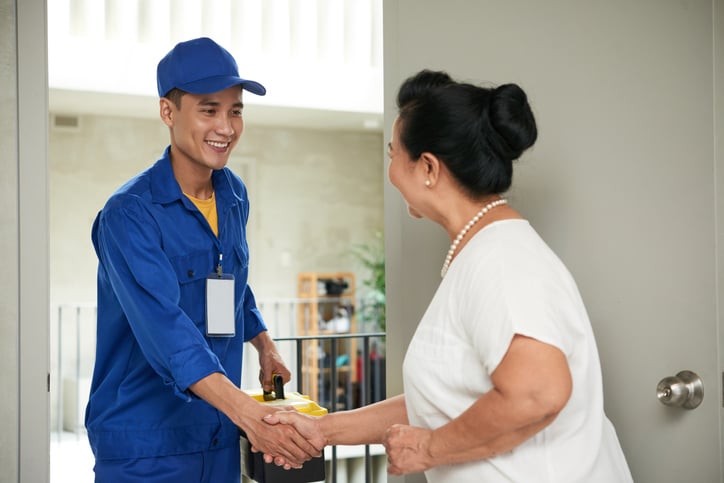 A positive customer service experience is at the heart of every thriving business. In fact, poor customer service costs businesses an estimated $75 billion per year. For contract service businesses, that means it's important to promote outstanding customer service through every job, phone call, and interaction.
If you want to improve customer interactions, it starts with effort from technicians and the whole team. Wondering how to help your field technicians provide a better customer experience? Read on. We've nailed down the top tips to give your team for a better customer experience, more business, and a more positive workday.
The Importance of Customer Service
It's easy to overlook the impact the customer experience can have on a business. However, it's more critical to a company's success than ever. Today's average homeowner pegs customer service as a deciding factor in whom they do business with. In fact, 33 percent of Americans say it takes just a single instance of poor service for them to consider switching companies.
The same goes for the newest generation of homeowners. As a group, millennials are willing to spend an additional 21 percent for great care. For homeowners of all types and ages, it's important to deliver service that's fair, honest, and as error-free as possible.
Customer Experience Tips for Field Technicians
Promoting a positive customer experience requires getting the whole team working in the same direction. Here are some tips to give your field technicians:
Practice Clear Communication with Customers
As I'm sure you've experienced, miscommunication can cause frustration and mistakes. One way to promote clear communication is to encourage the team to pay attention to tone—both in person and online. Especially when you're dealing with customers in digital environments, where you can't see shrugs or facial expressions, it can be worth it to take a minute to consider what emotions might have been lost in the shuffle. This might be as easy as giving a text or email a second read.
At the same time, it's smart to remind all workers how important it is to respond to customers in a timely matter—or at least give customers clear expectations about when you'll get back to them and follow through. Responses don't have to be instantaneous, but customers will feel more taken care of with the assurance that they haven't been forgotten.
For busy field techs, clear communication also means getting the point across in a concise, yet meaningful, way. Always try to keep communication focused with the goal to educate.
Additionally, giving techs the right technology can naturally improve communication. Some software platforms will send live text updates to customers about upcoming service appointments. This includes updates when techs are on their way to the location. At the same time, platforms can make it easy to monitor and regulate these interactions, digital responses, and online reviews.
When problems do come up, technology also makes it easier to educate customers. Sometimes something as simple as taking a picture on your smart device and showing customers the problem rather than reaching for a verbal explanation can make all the difference. As issues arise, remind workers never to point blame elsewhere. Instead, they should humbly admit mistakes, stay calm, and explain what they can or can't do to right the situation.
Be Prepared with Data and Technology
Beyond improving communication, data and technology can also equip techs with better information; that often turns into a better customer experience.
When you give techs access to updated customer data, they'll know the customer's history on the spot. Every time they're able to cut out an unnecessary phone call or conversation, techs can save the customer time and frustration.
Clear, organized data will also help workers avoid relationship-wrecking mistakes. Because technology can now house service agreements in one organized, accessible place, techs can avoid showing up at the wrong place, at the wrong time, or with the wrong equipment.
When Issues Arise, Correct Customers the Right Way
No matter how effective your team is, mistakes happen. However, the way employees address upset customers can be the difference between a negative experience and a resolved issue.
One easy-to-remember way to deal with frustrated customers is following Robert Bacal's CARP system:
Control: Let the customer know your team is on top of the problem.
Acknowledge: Show the customer you recognize the issue and express regret for any inconvenience it has caused.
Refocus: Don't ignore the problem, but try to shift the focus of the conversation from the negative consequences of the issue to the possible solutions.
Problem-solve: Listen to the customer's concerns and explain how you can help.
Focus on Your Digital Reputation
In the modern business environment, in-person interactions aren't the only place to focus your customer service efforts. In fact, 93 percent of customers say online reviews do impact their purchasing decisions. That impact doesn't just apply to big businesses. Surveys suggest that 86 percent of people read reviews for local businesses.
Businesses can improve their digital reputations by providing prompt responses to online messages. When negative feedback pops up online, respond in a way that's transparent, honest, and helpful. When customers have a positive experience, encourage them to add an online review or follow your social media accounts.
Freeing Up Time and Processes for Excellent Customer Service
Building efficient field service systems can free your techs up for better customer service. Not only do streamlined processes give workers more time to focus on giving customers attention, but they also make it easier to deliver better results. Having access to current agreements, a full customer service history, and past notes makes it easier for techs to do their jobs well. It means they understand the customers' needs and are familiar with them before interactions begin.
Looking for the technology and guidance to organize your field service team? We have the solutions to help. Go here for a free demo and see how our technology can improve your business.