To anyone outside of the marketing industry, the world of search engine optimization (SEO) may seem intimidating if not flat out overwhelming at first. After all, not all of you are trained to be an internet guru. Although, it may seem difficult it is important to learn the ropes as a business owner.
The fact of the matter is, consumers, do check Yelp regularly and perhaps even more than you'd think. The 2018 Online Reviews Survey by ReviewTrackers says, approximately 45% of consumers say they're likely to check reviews on Yelp before considering a business or service. Yelp's percentage is only second to Google which is 64 percent.
As you can see, that is quite a heavy influence reviews have over your business. However, the good news is you can use review sites to your advantage. The rankings on Yelp are not as complicated as it may seem. In fact, by the end of this blog, you just might be able to turn Yelp into one of the best lead generators for your business!
Use Keywords
The countless amounts of different marketing methods can be overwhelming and I'm sure it's rather exhausting to have to continuously guess which marketing efforts are reeling in the most leads? Well, here's your solution: keywords! Your contracting company can be brought up in many different searches by the keywords you've selected to put in your business profile.
Now, the way to make sure you pick the correct keywords is quite simple. First, make a list of all keywords that are relevant to your service/business. For example, if you're an HVAC contractor, some great keywords for you would be heating and air conditioning services, residential, commercial, maintenance, and so on.
It is important to have these keywords naturally flow in your business description, so it makes sense to the readers. Beware of "keyword stuffing" and don't fall into its trap! If it seems like you are just trying to list a bunch of keywords to rank higher, it will become extremely obvious to both consumers and Yelp as well. Leaving you with an overall poor ranking. We will explain to you how that approach backfires next!
Keyword Stuffing
When search engines were new, it was easy for businesses to manipulate their page ranking with keyword stuffing. The benefit of this was so sites could rank higher by listing a wide variety of keywords even if some keywords were unrelated to what was on the actual site. As a result, this leads to awful user experience.
Soon after this trend started the major search engines took notice and found ways to catch the abusers and take them out of searches. Google's own Matt Cutts has been warning webmasters about keyword stuffing and over optimization for a while now, "We are trying to level the playing field a bit. All those people doing, for lack of a better word, over optimization or overly SEO – versus those making great content and a great site. We are trying to make GoogleBot smarter, make our relevance better, and we are also looking for those who abuse it, like too many keywords on a page, or exchange way too many links or go well beyond what you normally expect. We have several engineers on my team working on this right now."
An effective way you can use keywords is by adding in a question that your target audience may be using in their search. For example, the title of this blog! Contractors or any field service professional looking for a great plumbing service may be searching "How can my business rank higher on Yelp? So, we made the title, "Attention Contractors: Find Out How Your Business Can Rank Higher On Yelp!" to make it easy for consumers to find what they're looking for! Using this technique will position you to be as helpful as you can be and will also help rank for the top questions your potential customers ask.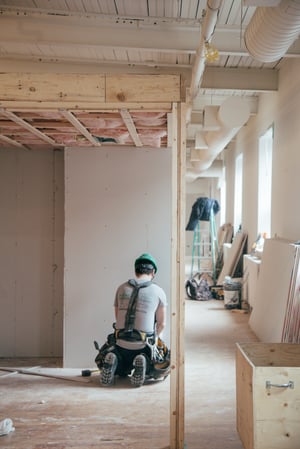 Ratings and Reviews
There are only two ways that ratings and reviews will affect your Yelp rank. Those factors are the number of reviews and quality of ratings that you've received.
Although, Yelp makes it clear that you should not ask for customers for reviews that doesn't mean you can't leave strong suggestions. For example, many businesses will purchase Yelp stickers to place in their office. This way customers are reminding that they have the option to rate and review your services.
Make sure you get those positive reviews by providing excellent service and by going the extra mile with every customer. It's important to treat every customer the best you can. Besides, you never know which ones will be motivated to give you that review. Think about each job as a new opportunity to make your customers happy and help your ranking on Yelp and to bring you word of mouth business as a bonus. This way, you will stand out in their minds as an industry leader for sure.
Learn how Davisware can save you time and streamline your business so you can make this year the most profitable one to date!