Instagram, Facebook, Twitter, LinkedIn, and Snapchat are just of few of the many social media platforms that everyone is on! Not only do we have famous athletes and actors on them, but we now have Restaurants, States and businesses in every industry on social media trying to boost exposure. More than half of stateside field service businesses, according to one survey covered in Field Service News are using these platforms to engage and market to existing customers and potential consumers. Why are companies within the field investing resources in social media marketing efforts? The possible benefits are astronomical.
According to a recent survey conducted by the Pew Research Center, an estimated 69% of American adults regularly operate these social media sites. Now that is a pretty big number! That is an overwhelming about of potential for your field service business to gain new customers by cultivating strong connections online. If your business hasn't entered the social media evolution, don't worry! We have listed three strategies below that you can use as a good starting point to engage with past and future customers through social media!How to Use Social Media to Effectively Engage with Customers!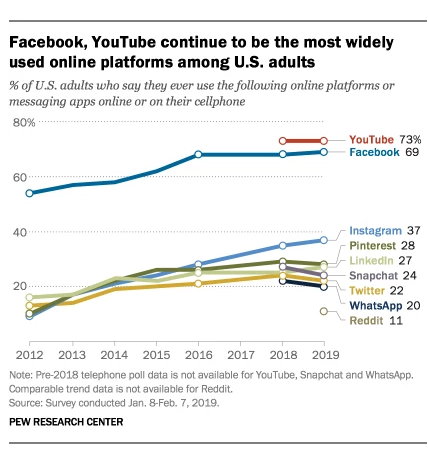 *Picture from Pew Research Center*
Post Consistently with Fun Yet Valuable Information
Websites like Facebook and Twitter are used to most daily updates on the life of your business. This is where the public can learn more about the people behind the business logo.
For example, try these methods below:
Post content that interests your customers
Post a variety of content
End every post with a question to welcome conversation
Make sure you don't post too frequently
Allow customers to post on your wall, check out what you can control in the privacy settings as well
Use contests to get creative but make sure to use them in moderation
Throw in a couple of behind-the-scenes operations with the occasional promotion for starters. Some suggestions you could use to begin to draw more views and clicks could be personal or a household tip or simply a video that is useful yet charming. Customers browsing through these social platforms are expecting to get something in return for their attention. By taking these suggestions and posting them to your profile with your own twist will help you develop and share social media content that offers your audience value of some kind, whether it is useful knowledge or random fun facts!
2. Focus on the Consumer
Engaging with customers through valuable content will lead you to social media success. Some businesses tend to put all their focus on branding and promotion, which is very much important! However, overloading users with continuous ads tends to become repetitive and annoying. Put yourself in the consumers' shoes, what would you like to know about a company that you wouldn't find on a billboard or a magazine ad! Concentrate on making real connections with potential customers. How? Asking questions is an effective strategy! Start by asking industry-specific subjects, so you can figure out your customers' problems on a more intimate level. These social platforms make customer interaction less formal and simple so you can figure out the needs of your audience and, after some engaging back-and-forth, maybe even pitch solutions! For example, Twitter provides a polling feature that makes it easy to gauge user opinions on subjects big and small. Check out our most recent poll below!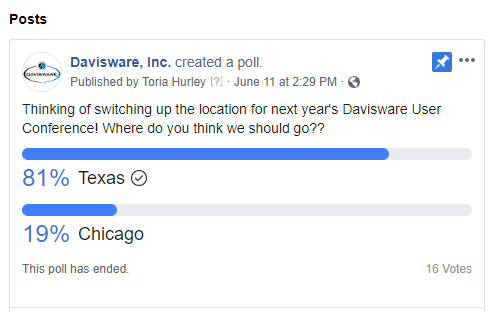 Support Fellow Industry Leaders
While navigating your personal social media accounts, it is likely that you can stumbled upon social media influencers. You can identify if that individual is considered a "superuser" by looking at how many followers they have or how many reactions are on their posts. These influencers heavily engaged in niche online communities and well have a good amount influence over their followers. They can be Brand Ambassadors. These are influencers who are hired by an organization or company to represent their brand in a positive light to help to increase brand awareness. Influencers will encourage their followers to connect with and sometimes even purchase products and services from certain businesses. However, they will do this if they TRUST your products/services and trust you to treat their followers with respect. However, that is a tad over the top. What you can do is engage in an informal version of this strategy by seeking out superusers and striking up the occasional conversation or even sharing their posts and continue to be relevant in your business industry.
By implementing these approaches and changing the way you post on social media, you will generate real leads. Make sure to hold up your end of the deal by providing top-notch field services that give your current and future customers a reason to keep coming back for more!
To learn more tips on how you can benefit your business, click here!