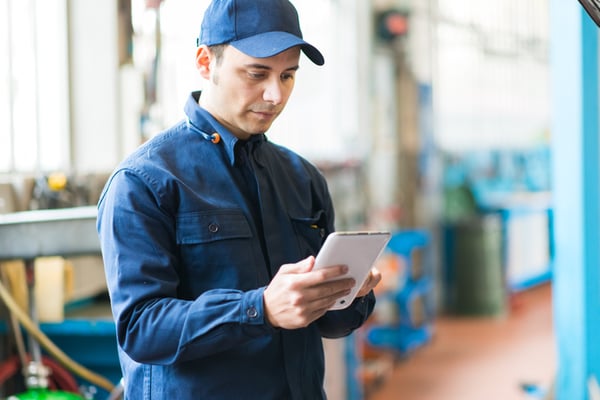 The service contractor industry is rapidly changing. If you've been in the business for a while, you've already seen the boom in technology over the past 15 years.
Amid this new digital landscape, the faces of field service workers are also changing. Baby boomers are retiring, leaving a gap in the skilled labor market. That hole will be filled with a surge of new workers—along with new strategies, technology, and tactics.
Wondering where the industry is headed? Here are the trends and technologies driving the future of field service contractor software:
How the Service Contractor Software Landscape Has Changed
Over the last 15 years, the way people interact with businesses has changed drastically. Today, people have firmly adopted digital technology in their daily lives and buying routines. In fact, 55 percent of people say they search online for reviews and recommendations before making a purchase.
However, technology is driving more than consumer behavior. It's changing the way businesses can interact with and serve those customers—especially in the service contractor industry. More and more, manual systems are giving way to new technology.
Here's a look at the technology trends and breakthroughs that are shaping the future of field service management software:
Connecting with IoT
The Internet of Things (IoT) is a system of devices that share connections. At their cores, different objects, machines, and devices are set up with chips that let them send information back and forth. This is the technology that's behind things such as lights in smart houses, self-regulating thermostats, and self-driving cars.
In the world of field service management, this technology is quickly taking off. In fact, 42 percent of field service offices had already integrated IoT into their business as of 2018, and 31 percent of field service offices planned to use IoT in the next two years.
In practice, IoT is driving connectivity. It's connecting workforces and making it easier for technology to work in unison. With devices communicating through maintenance alerts, for example, technicians can spend less time on the job and need to make fewer visits to a physical site. IoT also opens the door to predictive maintenance, which means many service calls can be diagnosed and fixed without someone having to ever physically show up at the door.
Mobile Connectivity Is Improving Efficiency
People are flocking to mobile devices. Earlier this year, the global mobile population reached 4 billion unique users. This trend has made its way into the field service industry and is already making work easier.
Mobile devices, like rugged tablets, are making it easy for techs to problem-solve and access info on the go. This trend is catching on fast. Already, 77 percent of field service professionals say they bring their mobile device to their jobs.
What's the advantage?
Think about how much easier it is for a tech to diagnose and repair equipment when they have resources at their fingertips. Suddenly, techs can find answers to questions that come up on the spot, as well as access things such as task checklists, work orders, and reports. At the same time, office workers can track a technician's whereabouts and stay updated on their on-the-job progress.
Task Automation Is Simplifying the Back End
As a manager, imagine how many hours are spent filling out payment information, tallying inventory, and plugging in invoicing details. Now, imagine the time that could be saved if that information were populated automatically. This is the beauty of automation. It tackles tedious work and frees up workers for more specialized tasks.
In addition to simplifying financials, software can automate scheduling, dispatching, and whole management processes. It's now making it possible to lower costs and track progress at the same time.
Virtual Reality Is Creating Possibilities
Augmented reality and virtual reality may seem like futuristic concepts, but they're poised to make work easier for service contractors. This technology could let users view equipment, units, and walk-through scenarios without leaving the station. That means AR and VR could make training and on-the-job preparation much more efficient.
Think about the daily job of a field technician when there's a maintenance call. A huge chunk of that tech's day is spent getting familiar with the system in order to diagnose the problem. What if there were a way to quickly see the intricacies of a piece of equipment without leaving the station? This highlights the future possibilities of VR.
With this emerging technology, techs could use VR to see what's going on within a unit without having to physically pull it apart. What's more, they could do it from anywhere in the world. It also provides new possibilities for training, allowing techs to walk through a project without leaving their home or office.
Integrating Field Service Management Software into Your Business Plan
As technology advances and is integrated more and more into the industry, field service management software is pulling it all together. Adopting software is an important first step in staying on top of future trends and using them to improve your business.
Ready to see how field service management software fits into your business? Schedule a free demo here.