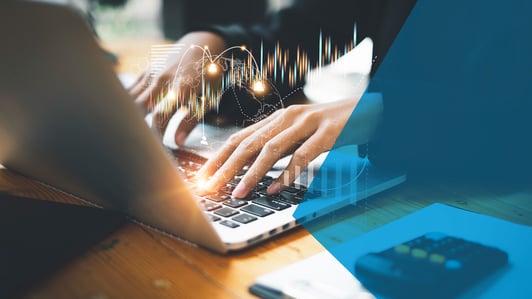 How to shore up your finances with a potential recession on the horizon.
You've seen the rising interest rates. You can't escape the talk of inflation. All signs point to the dreaded "R" word coming down the pike.
That's right—a recession.
Approximately 81% of small businesses anticipate a recession in the coming year. And with many companies still recovering from the economic fallout of the COVID-19 pandemic, that prospect is more than a little nerve-wracking.
But while we may be reasonably certain that a recession will hit in some form, there's no way to predict how severe or how long it will last. Either way, it's a good idea to get your finances in order ahead of time and prepare for a wide range of outcomes. Below, you'll find a few helpful hints to gear up for an incoming recession.
How To Prepare for a Recession
Back to Basics
What is a Recession?
First, let's take a step back and define what exactly a recession is. According to the National Bureau of Economic Research (NBER), a recession is a significant decline in economic activity that's spread across the economy and lasts more than a few months.
All industries will experience the effects of a recession differently. While HVAC-R, PEI, and Commercial Food field service companies aren't typically hit as hard as other industries, no one is immune. The best way to ensure your business continues to find success amidst an economic downturn is to prepare well in advance. The following tips may set your company up to withstand the worst of a recession.
Better Early Than Never
Securing Financing Before You Need It
Every business faces a time when they need a little financial help. Unfortunately, if you wait to ask for that help until you really need it, it's probably already too late.
Try getting ahead of the curve by securing financing early. You're more likely to be approved for a business line of credit when your company profits are strong. If you apply in the middle of a recession, it could be harder to qualify. Get your ducks in a row early and apply for funds when you know you'll be approved. Embrace the power of timely preparation to help secure your financial position and steer your business towards lasting success.
Less Ebb, More Flow
Protecting Your Cash Flow
Did you know 82% of business failures are due to poor cash flow management?
During a recession, it's more important than ever for a business to have adequate funds on hand. Businesses should try to keep the equivalent of three to six months of expenses in an emergency cash fund. If that sounds easier said than done, you may want to look at the software running your business.
Through proper inventory control and timely invoice collection, Davisware's platform can help you free up funds to have more cash on hand when you need it most.
Cut the Fat
Limiting Unnecessary Expenses
There's always somewhere to cut back. The trick is figuring out where. Having the right data about your business is a crucial first step to understanding how to reduce unnecessary expenses.
For example, when you use Davisware to manage your field techs, you can streamline their routes to avoid excessive downtime. You may find that you've been wasting hours of technician time driving between jobs, not to mention thousands of dollars on soaring gas prices.
The sooner you start operating at maximum efficiency, the sooner you'll start saving money you can use when the recession hits the fan.
Cold Hard Facts for Cold Hard Decisions
Using Data to Evaluate Staffing
Downsizing staff is often the hardest and last thing a business wants to do during a recession. Unfortunately, sometimes it's the only option if a company wants to survive. The tough question then becomes, who stays and who goes?
Davisware gives you all the data you need to make an informed decision if that dreaded time ever comes. You can see what technicians are operating at the highest efficiency and sort your employees based on importance to the business. And with the proper software, you may even find that your back office can run more productively without the need for quite so many employees.
Ideally, you never have to make these difficult decisions and Davisware can simply help you grow your business by optimizing efficiency. But if downsizing becomes necessary, at least you know you're making the most informed decision possible.
The Silver Lining
Finding New Opportunities
With great challenges come great opportunities. Every recession offers a unique set of circumstances for a business to expand and diversify their offerings. For instance, during the COVID-19 pandemic, we saw a sharp uptick in remote service, contactless payments, and technological advancements. Try to think of innovative services that you can promote to expand your offerings without raising your expenses. Here's a list of new trends to get you thinking.
There's no telling when another recession will hit and how severe it will be when it does. But in the meantime, there are steps you can take to prepare your business for the worst. Davisware can help you decrease expenses and increase productivity. Our platform helps field service companies drive growth, reduce risk, and save money when they need it most. With a proven track record of resilience, Davisware equips your business to not only weather economic uncertainties but also thrive, ensuring you stay ahead in an ever-changing business landscape.

If you're ready to optimize efficiency and protect your business, give us a call at 847-426-6000 or schedule a demo today.