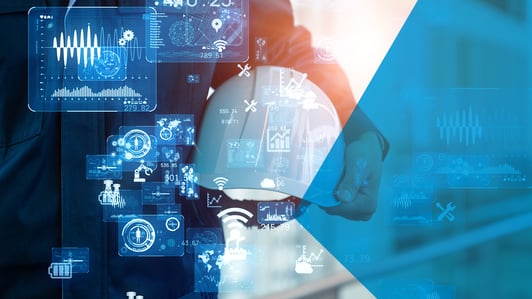 Examining future trends in field service industries.
It's been a heck of a couple years.
Since the start of the pandemic, the field service industry has been flipped on its head and turned inside out. We were forced to find new technologies and operating models that allowed us to continue serving clients under strenuous circumstances.
But for as tumultuous as it felt at the time, we are finally settling into a new state of normalcy and reaping the benefit of accelerated innovation. These new technologies, which felt strange at the time, have now been perfected to help us expedite growth and operate at maximum efficiency.
The future of field service is strong, and we have a lot to look forward to. The petroleum equipment industry is seeing exponential growth and making rapid changes to accommodate. Below are some key field service trends we've got our eyes on in 2023, followed by some trends for specific industries that are worth keeping tabs on.
Field Service Management Industry
Contactless Payment
Over the last two years, we've seen a major uptick in contactless payments. What started as a method to avoid the transfer of germs quickly became a more convenient solution for both field service workers and customers.
Contactless digital payments provide a variety of benefits. With on-the-job invoicing, it's easier to see who has paid and who hasn't. This allows companies to keep more cash on hand, get a clearer picture of ROI, and understand where to invest their money.
Remote Service
A recent need for remote service spawned a need for mobile resources. One especially influential resource has been the integration of XOi technology with field service software. XOi technology lets field service companies record, share, and store visual intelligence in the field within their all-in-one field service software platform. With this revolutionary technology, field techs can now virtually collaborate with colleagues while they're on the job to increase first-time fix rates and boost training capabilities.
Predictive Maintenance
The main difference between preventive and predictive maintenance is that preventive maintenance is scheduled regularly, whereas predictive maintenance is scheduled only when needed based on asset conditions. While the concept of predictive maintenance has existed for many years, the recent acceleration in sophistication, scope, and innovation makes it a trend worth watching.
When pumps are down, convenience stores can lose thousands of dollars in revenue. It's critical that all equipment functions at optimal performance at all times. So rather than waiting for something to break, why not get ahead of the game with a service visit and fix it before it does?
Predictive maintenance leverages the Internet of Things (IoT), artificial intelligence (AI), and machine learning (ML) to monitor system performance for potential issues. Field techs can receive notifications ahead of equipment failure to ensure a quick response. They can fix a problem before there even is a problem. Needless to say, predictive maintenance could be an invaluable tool for PEI companies, saving time, money, and resources.
AI-Enhanced Field Service
The use of AI in field service is poised to explode in 2023. Already on the rise, AI is transforming how PEI and many other field service industries work.
AI simulates human intelligence to automate and optimize operations and enhance service delivery. PEI companies can use AI to connect, predict, streamline, and automate their workflows. As the power of AI continues to expand in 2023, we expect many field service professionals to use it in three key areas:
Task Automation

- There are a variety of repetitive, time-consuming tasks that AI can help automate. In addition, AI can reduce guesswork and errors while speeding up service.

Dispatch Recommendations

- Getting the right people to the right job is an imperfect science. That is, until now. AI can help triangulate work order data, technical skill set data, and customer data to assign the right tech to the right task.

Scheduling Optimization

- It's no surprise that the least profitable time of the day is when techs are driving between jobs. AI can help eliminate that dead time. Using AI, you can minimize drive time and potentially bundle work orders to increase tech performance and put more money in your bank.
Eco-Friendly HVAC-R Systems
Year after year, the demand for eco-friendly HVAC-R systems continues to rise, and 2023 appears to be no different.
The use of geothermal heating and cooling methods is increasing in popularity. In fact, there are already thermally-driven ACs in development. Furthermore, the HVAC-R market has seen a growing adoption of environmentally-friendly refrigerants. Manufacturers such as Chemours and Daikin have been dominating across the globe with green refrigerants. For example, Daikin has introduced refrigerants with lower, more environmentally-friendly values, such as R-134a, R-32, and R-410A.
While these new technologies show promise to save money and the environment, they'll undoubtedly come with some growing pains. Commercial HVAC-R companies must be prepared to service these green initiatives in the coming years.
Smart HVAC-R Technologies Designed for Automation
The technology surrounding HVAC-R systems is accelerating at a staggering pace. HVAC-R design contractors can implement sensors that "talk" to one another, allowing buildings with various systems to communicate more efficiently.
These new smart systems can be used to acquire data and predict the need for maintenance. Field service techs should embrace these technologies and look for ways to maximize efficiency.
Mixed Reality Diagnostics
Over the past several years, field service technicians have used mixed reality (virtual and augmented reality) for training applications. During the pandemic, this technology gained popularity as a means for techs to remotely service customers. Like many technologies that are born out of necessity, it has now evolved to a whole other level. We expect the use of mixed reality to skyrocket in 2023.
CFES companies can use mixed reality to assist customers with remote diagnostics. And more and more, field service companies are using this technology for technician collaboration to be more responsive and provide better service. Field techs can safely and effectively inspect, audit, diagnose, and repair large or complex equipment virtually.
Enabling Mobile Technicians
Field techs are the face of your company. They meet with customers and are the last line of defense when something goes awry. A big trend in 2023 will be empowering these techs with the tools they need to be successful in the field.
Equipping techs with the ability to communicate with one another is a key first step. Techs can share data and discuss the best way to fix equipment on the spot. In addition, digitizing training documents can help speed up instruction and get to fixes faster. Lastly, ensuring that the back office can connect and coordinate with field techs via mobile devices during remote work is critical to the success of CFES companies in the coming year.
Regardless of industry, these trends are sure to influence the way we operate in the months and years to come. From contactless payment and remote service to environmentally-friendly equipment and smart solutions, the field service landscape is sure to evolve in 2023.
There's a lot to get excited about in the future of field service, and Davisware is here to guide you through it. With the right field service management software and a team of experts by your side, we can help you take advantage of these trends and accelerate your growth.
If you're ready to put your field techs in a position to succeed, give us a call at 847-426-6000 or schedule a demo today.