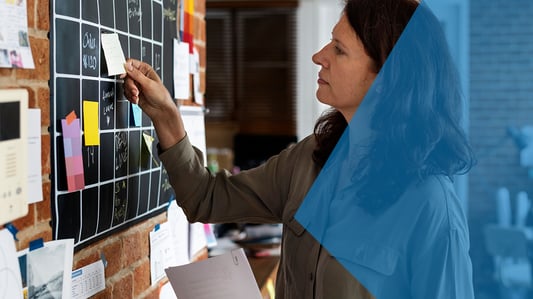 As the old cliche goes, there are only so many hours in a day. And if you're a growing field service company, what you do with those hours can make or break your business. Optimizing your schedule to complete as many service calls as possible will help the day run more efficiently and, ultimately, make your business more profitable.
So the question is, how do you optimize your field service schedule? Here are a few tips that can help.
Plan Ahead
Scheduling conflicts, delays, and curveballs are bound to arise. It's the nature of the business. But planning ahead can ease the stress and make adjustments easier.
Try releasing a tentative schedule as early as possible to give your field techs insight into their workload. That way, when they see a red flag, they can quickly inform the dispatcher, giving them plenty of time to remedy the problem and pivot the schedule.
Evaluate Your Team
Every field technician works at a different pace and has varying experience, availability, skills, and job opportunities. These unique traits aren't right or wrong, but you do need to be aware of them to effectively schedule technicians for the day. Whether you're working with apprentices, freelancers, subcontractors, full-time or part-time employees, or a combination of all, it's important that you know everyone's role within the team and how it relates to growing your business.
Categorize Upcoming Jobs
There are a variety of factors to consider when determining who to assign for a particular job. Individual skill set is certainly one of these factors, but it's not the only one. Location of the job, and where each tech is traveling from, must also be taken into account. You may find you're wasting more time and money than you think by sending technicians crisscrossing around town. By scheduling jobs with geography in mind, you can reduce "windshield time," minimize wear and tear on your vehicle fleet, provide route optimization, and keep your technicians focused on fixing things instead of sitting in traffic.
Davisware's Remote Field Service+ (RFS+) mobile app is a great tool to help with this endeavor. RFS+ allows you to follow techs via GPS in real-time without the need for high-cost hardwired tracking devices. With the GPS functionality, you can give customers real-time technician ETAs, see when techs depart and arrive at a job, route techs based on proximity, and more. When you can dispatch more efficiently, your techs can complete more jobs effectively.
Take Advantage of Recurring Appointments
Maintenance agreements and contracts present an excellent opportunity to bulk up your schedule with recurring appointments. Many clients prefer the peace of mind of these preventative maintenance agreements and you can use the tactic to your advantage, filling the schedule out months in advance and ensuring a consistent revenue stream. By strategically incorporating maintenance agreements into your service offerings, you not only enhance customer satisfaction but also establish a reliable foundation for sustained business growth
Lean On Software
All of the tips we've discussed so far may seem great on paper, but hard to implement in reality. However, with the help of service dispatching software, you can improve your office in all of these areas a lot faster than you think. With Davisware's software solutions, all job and technician information is available at your fingertips. No more scouring through paperwork to ensure the right tech will be at the right job. You can access all you need with the click of a button. On top of that, you can set reminders for your office about technician capabilities, schedules, and inventory so you can schedule jobs properly. Having the right tools for your dispatchers, enriched with comprehensive customer data, will free them up to get the most out of every customer interaction.
Davisware's software solutions can help you schedule more effectively and efficiently. If you're ready to improve your dispatch office, increase customer satisfaction, and increase your revenue, give us a call at 847-426-6000 or schedule a demo today.