When scheduling and dispatching for your HVAC/R service techs, communication is key. While any back-and-forth communication between the office and your field technicians is good, automating these interactions could be even better for productivity and for your customers.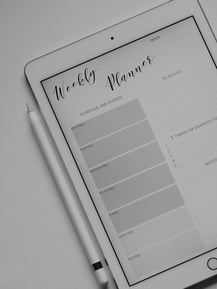 However, the best strategy for your business depends on the current systems you have in place to communicate with your technicians both in and out of the office. If your office manager is still manually scheduling and dispatching your technicians every day, here's 3 reasons why your business should look into some scheduling software instead:
Getting Away from Pen and Paper for Scheduling Jobs
If you rely on Google Calendar, a whiteboard, or paper and pencil to schedule your techs' jobs every day, you're more likely to either overlook or forget something important. You could even lose work orders by this rather dated form of scheduling. However, if you had a system to hold and retain all the information in one place, you may never have to worry about mishaps like these again!
HVAC scheduling software relays information in real-time so it is nearly impossible to forget or miss anything when the office gets busy. Imagine being able to pull up a customer's information and record info in your system with ease every time a service call comes in. With software, you are able to create a new job, mark its priority level and job type, start and end times. You also gain the ability to add any notes or instructions for your service techs as you assign future jobs. Once jobs are saved in the system, it can either be assigned or picked up by the tech in the field. Your techs will have access to that customer's record, the current job details and directions to the job site on their smartphone or tablet, right away!
Utilizing Software for Emergency Calls
Even when prioritizing all your techs' jobs for the day, emergency calls still come through and scheduling hiccups can still happen. For the office manager of an HVAC business, when things pop up, like an emergency service call, there's a lot of manual work that goes into reshuffling the schedule and updating techs in the field. When you're also trying to answer the phones and complete 10 other tasks, it's easy to misplace the work order you just had in your hand or accidentally double book a technician.
Color-coded dispatching tools make this process simple and efficient, allowing you to see many aspects of your business including your techs' jobs per day, week or month. With our software you are able to sort jobs according to their status, level of priority, the job type, a date range, a customer, and more. Jobs that aren't scheduled on the calendar yet will even show up on the software's dispatch board so you can add them in when they're due or where there's an open slot.
Easy-to-use drag and drop features make scheduling, rescheduling and shuffling the jobs on the board easy as well. With software, new work orders that are created are then stored and attached to the customer's record. When you go to schedule that new job, all that information moves with it digitally, so you'll never have to worry about losing another work order, invoice or proposal throughout the service and sales process.
Using Software to Manage All of Your Service Agreements
Keeping track and staying on top of all your service agreements isn't easy, especially so if you're focused on trying to grow your business. When you don't have a system in place that can alert or remind you of when your customers are due for maintenance, you're losing money and doing your customers more of a disservice than you are providing a good service.
Without HVAC scheduling software, by the time your customer realizes they need you, it's too late; something is broken. Using software will help you recognize your customers' needs before they do. If a recall on a part is sent out, for example, HVAC software would allow you to run a quick report for all the customers who have had that part installed or serviced by your team. With this information at your fingertips, you can be proactive instead of reactive in addressing any issues right away.
Scheduling maintenance agreements is another ask that can be done in advance. Scheduling features will allow you to save jobs that you've created to repeat on a pre-defined schedule, which then allows you to see and plan for upcoming service appointments before they're a "no-show" or missed altogether.
The open, transparent communication that's created from using software, helps HVAC businesses operate more efficiently. It ensures that both office employees and field techs have the ability to work independently from one another but also be on the same page. This then allows everyone to be more productive and pro-active - What business wouldn't want that? What strategies do you use to improve communication while scheduling your HVAC employees? Comment below and let us know!
Don't forget to subscribe to our blog to receive weekly tips and insights for your industry, here!