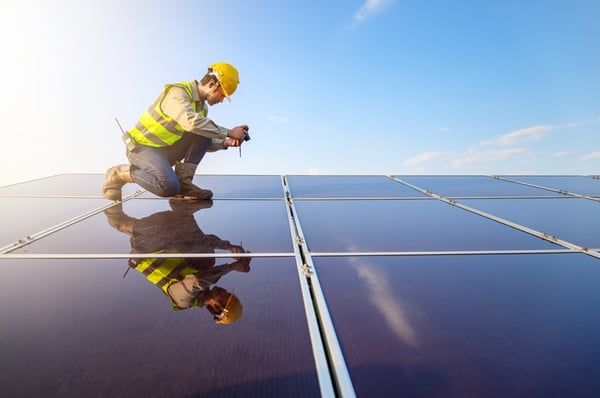 Field service management software should be more than just another useful tool. For many, it's an investment that replaces all those one-off solutions your organization has collected over the years.
With such a big transition on the line, it's worth asking, "Will these big moves pay off?"
We're here to help. We've laid out exactly how moving to a single software solution should touch each layer of your business's profits. Here's how to know whether field service management software will pay off for your organization in the long run.
What Does Disconnected Field Service Management Leave Out?
We've seen it time and time again. A company will slowly pick up one-off solutions to address every little task. As a result, leaders are left with multiple logins, a million different programs, and a disconnected team.
Unfortunately, that approach may be costing more than you realize. If you're using multiple software programs to bridge the gap, here's where it could be costing your business:
1. Communication Across the Organization Suffers
If you don't have a single, unified field service management software platform, it could splinter communication—inside and outside the organization. Internally, office teams that don't have a single platform often have no way of tracking techs in real time. In turn, techs don't know when parts will come in, or they can't use mobile devices to stay connected. As a result, fragmented software drives a wedge between departments.
At the same time, communication with customers can suffer. Errors in communication trickle into a negative customer experience, and customers become frustrated when they don't have instant updates. The effect of every negative customer experience is a hefty loss for the company. In fact, poor customer service costs businesses an estimated $75 billion per year.
2. When You Don't Control Inventory, You Lose Money
If you don't have all-in-one software to organize your inventory, your organization is bleeding money. Here's where most companies lose money:
Transportation: If your team isn't connected with one unified software system, your techs may be losing money just traveling to and from jobs. If they're taking ineffective routes, it's costing you money and efficiency. Every time techs have to head back for a part or there's a callback, it's money out the window.
Lost productivity: Whenever your team is waiting around for parts or unsure of when they'll arrive, it hurts productivity. Those hang-ups cost the company money. Remember, every kink in the process pulls manpower away from your operation.
Poor customer retention: Customers get frustrated when a job is delayed or they have to wait for a part to come in. These negative experiences cause customers to look elsewhere when their next need pops up. As a result, the company misses out on repeat business, has poor customer retention, and loses money.
How Efficiency Equals Profit
Unfortunately, if you're relying on multiple systems spread out across departments, your workforce is probably wasting time doing unfocused work. In fact, it's common. McKinsey found field technicians waste up to 40 percent of their workday on non-value-adding activities.
Here are some vulnerable areas where you may be losing productivity and money:
1. Order Mistakes
One of the biggest downsides to having multiple field service management systems is that they make it easy to make costly mistakes, such as duplicate orders or lost invoices. Every time a mistake is made or a process is held up, it has a compounding effect. You lose money on the immediate mistake, and your workers have to spend time sorting through the error.
2. Callbacks and Wasted Manpower
Callbacks are another common money-loser. Here's a scenario so common when you have multiple systems that it may seem normal: Your field tech heads out onto a job but realizes they don't have the equipment they need. They head back to the shop, waste time, waste fuel, and nullify a big chunk of their day.
How Field Service Management Software Boosts Profits
Luckily, all-in-one field service management software doesn't just increase productivity. It boosts profits all around. Here's how:
It Gives You Control of the Company Strategy
With a single software platform, you can bring payroll back in-house, manage inventory, and cut out waste. Along the way, you improve your current systems by drastically reducing callbacks and cutting out errors such as invoicing mistakes.
It Unites the Team
Simply put, an all-in-one program connects the whole team. It lets dispatchers set up schedules, office workers track techs in real time, and field techs go into jobs with confidence. More importantly, nobody gets bogged down by multiple logins or wastes time looking for documents.
It Frees Up Employees
When employees spend less time fixing errors and organizing systems, techs have more time to improve their customer service skills, and managers can focus on setting up marketing plans or tracking KPIs.
It Creates Better Outcomes and More Revenue
It's simple: When customers experience better outcomes, you pull in more business. In addition to bringing repeat customers back, positive experiences spread quickly online. In fact, a recent Bright Local report suggests 77 percent of consumers read online reviews for local businesses, which means a few positive, or negative, experiences are amplified online.
See How Field Service Management Software Can Improve Profits
The right field service management software can increase profits across the organization, but before you make any moves, you should know what to expect.
Wondering what results you can expect with an all-in-one system? Schedule a demo and learn how our software fits into your organization's goals.