In 2019, technology is more essential to running a successful business than ever before. It's becoming more and more important to modernize your business to maintain a competitive edge. So, don't be shy! Give your business that 2019 technology tune-up that you've been wanting. It's time to boost your company's traffic flow and of course, revenue.
Marketing
Company website: How will customers find you if they don't know you exist? Creating a website is by far most important step when it comes to socially marketing your business.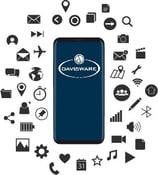 On your website make sure you include the following:
Contact information

All services and products you provide

Brief overview of the company history and it's values

Customer "testimonials"
It is very important to create a destination where consumers can find these pieces of information while on the go, during non-business hours or even if it's one of those days and your phone lines are too busy!
Social Media: Once your site is up and running, it's time to really advertise your services through (free) social media platforms. Such as, creating a company page on Facebook, LinkedIn, Instagram and Twitter. Having a page on these online media platforms can help your business gain more attention and customers. They provide you with the opportunity to interact with current/potential customers by posting about promotions, reviews, and responding to questions. For more on this subject, refer to our blog on how your business can benefit with Facebook and to build loyalty with customers. When done correctly, social media will lead the right customers to your business. With that, you can expect to see an increase in both new business and current customer loyalty.
Service Software
Having service software that is compatible to help run your business is essential. The right service management software provides features such as accounting, customer relationship management, scheduling, dispatching, and more! By having software to complete rather time-consuming tasks will save you paper, time, money, and energy. Davisware's software solutions provide your company with more time to focus on tasks that require actual human attention, like connecting with your customers on your new Facebook page!
Modernizing your business can do more than improve efficiency, provide strong customer relationships and create more value for your products and it is not a one-time thing. You must always make sure you are taking advantage of these modern tech opportunities. Any business that is continuously adding new technology will be much more competitive against those that aren't. So instead of being left behind, ditch the dinosaur technology and step into the world of increasing revenue and effective customer bonding!
To learn more tips on how to benefit your business, subscribe to our blog!