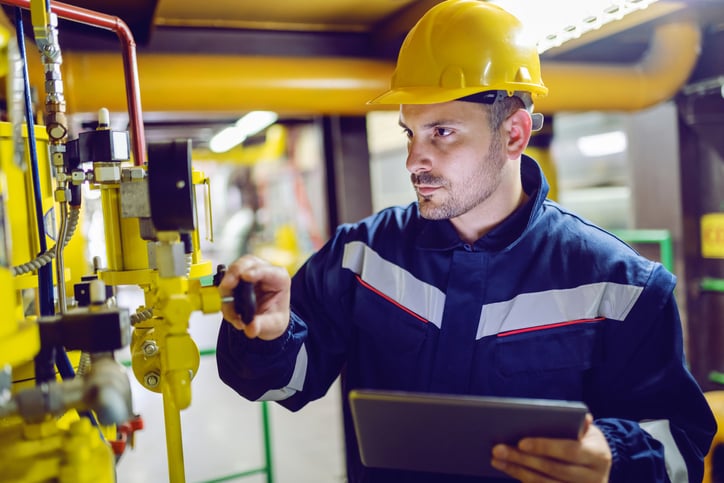 The petroleum equipment service software your company uses will hit every corner of your business, including how effectively you can grow in the future. Unfortunately, with so many options out there, it's not easy to pinpoint the perfect software solution to drive growth, more efficiency, and higher customer satisfaction. In this article, we nail down the 10 things you need to look for in a petroleum equipment service software solution if you want to improve processes and grow profit.
How to Spot Stellar Petroleum Equipment Service Software
Make no mistake, not all petroleum equipment service software is created equal, and choosing the right platform early on can save you long-term costs and frustrations. Here are the 10 things to look for when choosing petroleum equipment service software:
1. Built-in Accounting
If you want your petroleum equipment service company to grow and improve, you need to have a firm grasp on your general ledger. Unfortunately, most software simply doesn't include fully-integrated accounting. That can cause major discrepancies between your general ledger and your actual business' numbers. In turn, when you try to grow and improve, you don't have the information you need to lift cash flow.
That's why it's important that your software solution is all-in-one and has full general ledger control. That way you can dig into finances across your entire organization. The best software on the market will give you the ability to:
Handle multiple entries within a single database
Maintain multiple balance sheets at a time
Manage multiple income statements at one time
Log recurring journal entries
2. Mobility
If you want to drive more productivity in the future, it's important that your software is built for mobile. This single feature can drastically lift productivity. In fact, 80 percent of field service operators agree that mobile field service is needed in order to improve efficiency and speed of employees. Mobile software allows your team to stay connected whether they're in the field, in the office, en route, or somewhere in between. What's more, mobile tools give your techs service histories and access to equipment records in the palm of their hand. That way, you can maximize the tech's billable time in the field and increase first-time fix rates.
3. WIP Reporting
Too often, a petroleum equipment service company will implement software only to find out later that it doesn't include work-in-progress (WIP) reporting. WIP information is important because it accounts for jobs that haven't yet been fully closed out and paid for. Without WIP reporting, your books can be thrown off, which muddies your view of productivity as well as your ability to secure loans.
Instead, your software should give you the ability to report on both material and labor WIP. That way you can paint a full financial picture and see where labor can be improved.
4. Net Profit Assessments
There are plenty of software programs that will let you gather financial information and generate reports. However, most software will only provide gross profit numbers. That can leave huge blind spots in your business.
In order to craft accurate financial forecasting and acquire loans, you'll need to know your business' net profits. If your system only gives you gross profit figures, you'll either have skewed numbers or be left with the hefty task of tallying results on your own.
5. Automated Service Agreements
Manually managing your service agreements could be costing your petroleum equipment service business big time. Any time you handle service agreements manually, you risk wasting time and making mistakes. However, all-in-one petroleum equipment service software allows you to automate service agreements. In turn, you save time, reduce errors, and can automatically line up statements with your balance sheets on a monthly basis.
6. Holistic, End-to-End Reporting
If your software isn't end to end, it leaves you with two big potential problems:
Extra work: At the end of the month, you waste hours tallying finances by hand.
Errors: If your reports aren't connected, you run the risk of relying on incomplete information or mistakes.
Instead, it's important to make sure your software is an all-in-one solution that touches all corners of your operation. All-in-one software lays out holistic reports for both finances and process improvements. Because data on productivity and finances streams into a single hub, you get all the insights you need to adjust processes and bring in more profit. It also generates accurate, real-time data that your business needs to make tough or urgent business decisions.
7. Inventory Management
The best software will also let you manage and control inventory within a single system. In the petroleum equipment services industry, you need to manage original equipment manufacturer (OEM) parts and core returns, as well as critical third party parts sales. Here are a few ways the best software helps you handle these tasks and lifts the stress of managing parts off your employees:
Advanced all-in-one software will let you automate core return management—a task that can be extremely time consuming when done manually.


You can avoid losing money on those parts your vendor doesn't get back because they got lost in the shuffle.


When your manufacturer pays you in a credit memo, Davisware software lets you monitor and account for all of that money.
With all-in-one software, you can also track inventory, see what parts are in stock, determine what inventory is in high demand, and monitor parts. At the same time, you can easily communicate that information to techs on the job and customers. It all results in fewer delays, lower costs, happier customers, and more repeat business.
8. Advanced Billing
Software should let you handle the entire billing process in a single system. That includes built-in parts purchasing that reaches beyond simple purchases. For example, the software you choose should also account for instances where manufacturers pay you in a credit memo in order to purchase parts.
By using software that gives you the ability to purchase parts, set job costing, and generate POs in real time, you end up with more cash on hand, fewer billing errors, and a clearer picture of revenue.
9. Job Costing
In order to increase profit and manage growth, it's important to find software that pulls in information across the full scope of jobs. That means you should be able to report on everything from the initial call to scheduling, deployment, job completion, and the final payment. Ultimately, this type of reporting allows you to determine job costing that is more accurate and that drives higher profit.
10. Industry-Specific Features
If you want to make progress in the future, it's important to partner with a software provider that knows the petroleum equipment service industry and is committed to innovation. In the current field services software market, Davisware is the prevailing solution for the petroleum equipment service industry.
Why?
Davisware's all-in-one software gives you one platform to control the four most critical aspects of the industry: job costing, part sales, service, and preventative maintenance agreements. With Davisware software, those crucial functions are all rolled into one solution. That means managing these features is faster, easier, and fully connected to your books—making it easy for your business to scale and grow.
How to Find the Right Software for Your Company
Davisware software is designed to help petroleum equipment service companies capture real-time data, improve processes, and grow. Our all-in-one field service management software streams data from across your whole business—from accounting and internal offices to dispatching and the field. From there, software feeds into reports and visual dashboards you can use to adjust and grow.
Want to see how Davisware software can help your company reach its goals? Schedule a demo today for an inside look at how our all-in-one software works.