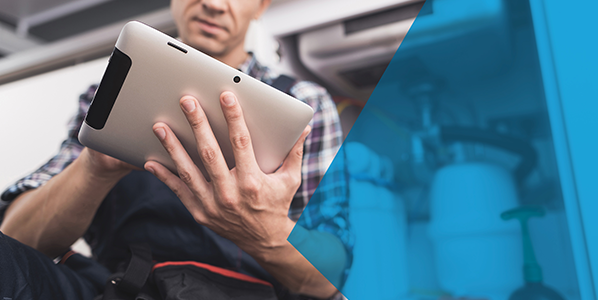 When it comes down to it, every business has one simple goal in common: to make money. And to make money, you need to be able to collect money. Quickly. Easily. Securely. That's where OnePay comes in.
OnePay, Davisware's built-in payment solution, speeds up payment and creates more efficient transactions by giving users secure digital sales from the office, field, or via ACH for any job. It's a one hundred percent paperless, contactless payment system that lowers risk, increases cash flow, and provides convenience for customers.
So, how exactly does OnePay lead to better business? Glad you asked.
Benefits of OnePay
Faster Processing, Faster Payment
No matter the business, cash flow is always a concern. The quicker you collect payments, the quicker you can reinvest and grow your company. With OnePay, you can speed up processing time and get paid faster. And by securely storing payment information, you can cut out the step of tracking down credit cards after each service. OnePay puts money in the bank faster so you can get back to business faster.

Easy Does It
The last thing anybody wants is to waste time hassling over invoices. That goes for both you and your customers. OnePay cuts out the paperwork, allowing you to email invoices and receipts for transactions. With this one hundred percent contactless system, you can store and charge cards automatically, enhancing your customer's experience and making your job hassle-free.

Safe and Sound
Collecting payments quickly and easily is nice, but doing it securely is absolutely vital. Backed by MerchantE and PCI compliance, OnePay reduces the risk of theft, fraud, and returned checks. You can rest assured that your business is protected from faulty transactions by running credit card preauthorizations before you even start work. OnePay keeps you, your clients, and your money safe and sound.
OnePay is a fast, easy, and secure, all-in-one payment solution. And its features go well beyond the scope of this article. If you'd like more in-depth details about what OnePay can do and how it can boost your business, give us a call at 847-426-6000 or schedule a demo today.