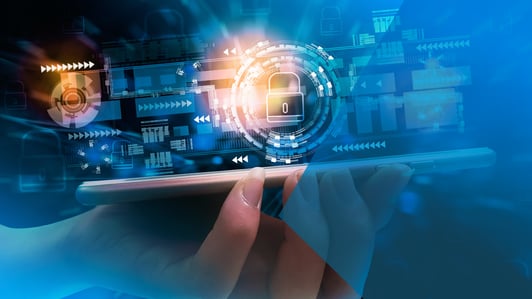 We get it. Change is scary. But you know what's even scarier? A data security breach. Wasting money. Getting left behind as your competitors grow. There are dozens of ways a poor technological infrastructure can fail your business; but the good news is, there's one surefire way to improve it—switching to a secure cloud platform.
What is a Cloud Platform?
Before we get too deep into the benefits of working on a cloud platform, let's take a step back and define what a cloud platform is. The term "cloud platform" refers to the operating system and hardware of a server in an internet-based data center. Rather than housing and updating costly servers on-site, a cloud platform allows software and hardware products to co-exist remotely and at scale. Instead of managing their own computing infrastructures, businesses simply pay for what they use on the cloud.
The benefits of hosting on the cloud are innumerable. From saving money to increasing security to enabling scalability, the cloud can help take your business to a whole new level. If you're thinking about upgrading your system from an on-premise or legacy solution, we've got all the info you need to know to make the best decision for your business.
Benefits of Davisware's
C
loud
Platform
Trusted Provider
When so many cloud security solution options are available, it can be difficult to know where to start. Well, look no further than Microsoft Azure—the universal leader in cloud solutions. At Davisware, we've chosen Microsoft Azure as our cloud partner because its reputation speaks for itself.

When working on an Azure platform, you've basically got the world's best IT team by your side. They provide all system-related updates and server-related maintenance, so you know the job will get done right. Azure also offers excellent redundancy. Database backups are completed every fifteen minutes, and server backups are completed daily. Multiple copies of the database are kept for up to thirty-five days in an offsite location . And best of all, with a global IT leader by your side, you have the peace of mind of knowing everything is running smoothly. You can get back to work and focus your attention, and your dollars, on what matters—your business.
Increasing Security
In every industry, including HVAC, petroleum, commercial food equipment services and more, there's nothing more important than earning and keeping your customer's trust. Unfortunately, that trust can be lost in an instant if you fall victim to a data breach. Davisware's Azure cloud platform helps eliminate these risks and strengthen your client relationships.

Microsoft Azure's top-notch, professional staff maintains all firewall changes, so you know you're in good hands. In addition, all systems are pathed regularly to improve data safety. And while offices and small data centers may be susceptible to break-ins, you don't have to worry about that with Azure. They employ a team of dedicated security personnel to keep you protected on all fronts.
Saving Money
Switching to the cloud goes beyond just improving security. Davisware's Azure cloud platform can provide real cost savings on your bottom line. No longer do you need to replace obsolete hardware every few years. Server and software upgrades are included in the Azure hosting price. And because Azure maintains servers, you can reduce your need for local IT personnel. Even your monthly utilities costs will come down. Running your own server can cost an average of $30/month in electricity. By hosting on the cloud, you can decrease your power usage and save on your electric bill.
Growing Your Business
The last thing you want to hold you back from growing your business is your IT infrastructure. With Davisware's Azure cloud platform, you don't have to constantly revisit your technology strategy every time you need to scale. With the cloud, it's as easy as a push of a button.
Azure provides greater overall stability for your IT platform. That stability helps your business perform more consistently. When that consistency leads to growth, you don't need to hire new IT personnel or add expensive hardware. Azure grows with you and can be scaled at any time.
Davisware's Microsoft Azure cloud platform increases security, decreases expenses, and sets your business up for future growth. And that's just the start. If you'd like more in-depth details about how switching to a cloud platform can help your business reach its full potential, give us a call at 847-426-6000 or schedule a demo today.