Recently announced via Facebook Marketplace, Facebook is now connecting service professionals with consumers. According to Facebook, more people, millions of people in fact, ask for recommendations related to home services on Facebook in the US than any other topic. Read on to learn more about how you can leverage this new feature to gain more exposure for your service business and gain more new customers.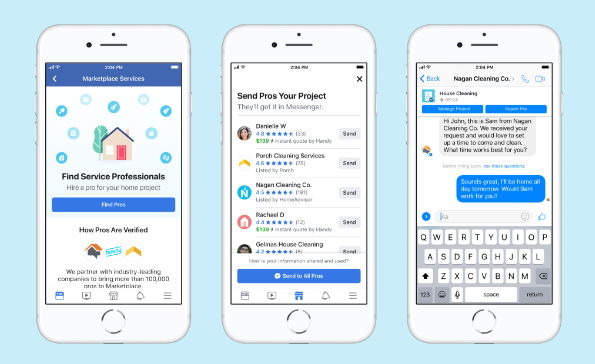 Through their partners, Handy, HomeAdvisor and Porch, Facebook is now able to provide users with access to service professionals in their area. For contractors and field service business owners, this means that you'll now be able to gain more exposure to your services. Consumers will be able to see your ratings, reviews, credentials, location and more, and even be able to request a quote on the spot, from the Facebook platform. You'll then be able to communicate with the consumer and respond to them via Facebook Messenger.
To get started, here's what you need to do:
Step 1. Create a Facebook page for your business. More on how to do that, here.
Step 2. List your business with any one, or all of these trusted industry directories: Handy, HomeAdvisor, or Porch. In order to be featured on Facebook's Marketplace, you must have registered with one of these partner directories.
Once you're all set up, Facebook users can begin locating you on the marketplace. For HVAC and plumbing contractors, this new feature seems like an easy, free win, especially if you're already listed with Porch or HomeAdvisor. There's really no downside. For contractors everywhere, it's additional exposure to get in front of consumers who are already searching for service professionals, and for consumers, the app creates a seamless and fast connection to professionals like yourself.
As the service provider, you also now have the ability simplify and make the consumers decision to go with you for their needs much easier by showcasing your credentials and ratings. As soon as a request is received, you'll both also be able to communicate in real-time with each other, speeding up the process to scheduling the appointment.
To try it out, visit Marketplace on the Facebook app today!