This post is about my time with Davisware, Inc.'s Co-founder and President, Jennifer Davis. Jennifer is a collaborative leader who has dedicated her career to creating innovative software solutions to help business owners solve their most complex problems and improve the growth potential of service-oriented organizations of all sizes.
With roots in the HVAC industry, at the age of 17, Jennifer co-founded Davisware working alongside her now husband, Dan Davis. Together, they were determined to pioneer and design software for a family run and owned HVAC business.
Today, Jennifer is active in many trade organizations and has been a keynote speaker at notable corporations and industry meetings; addressing topics ranging from the do's and don'ts of software buying, system disaster planning, and recovery, and what it's like to be a female entrepreneur while raising a family. Running a company is without a doubt, a lot of work, but Jennifer has her technique down pat! She is up at 3:45 am. Wide-eyed and eager to start her day, she gets right to it. Like any other good mom, she begins her day by starting some laundry (she and her husband have 9 children after all), meal-preps dinner, packs her work clothes and is at the gym by 4:40 am. To and from the gym streams her calls through her Bluetooth to get a head start on her day and prioritize the days' agenda. She's home from the gym by 7 am to get her daughter ready for school, and finish the laundry. After spending some quality time with her children as she drops them off for school, Jennifer heads into the office to begin her workday. Where she is constantly evaluating the latest industry trends and ways Davisware can improve the lives of her customers. Whether that's through education, emerging technology, or simply popping in on her customers to say hello and see how things are going!
After work, Jennifer can often be found coaching the local high school's youth volleyball and cross country track teams. In addition to running a business, Jennifer a proud member of the Little League Board of Directors, an officer of the school parent association, and a member of the school education commission. As you can see, she takes just as much of an interest in her children's lives and future as she does her customers!
Jennifer not only has 9 children, but she comes from a family of 9 children; having 5 brothers and 3 sisters. I think it goes without saying but to Jennifer and Dan Davis, family values, and maintaining a healthy work-life balance are important.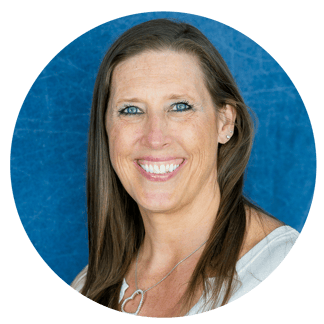 When I asked Jennifer who the person is that she admires most and why, she smiled and said, "my husband. He is the most driven and hardworking person I have ever met. I admire his ability to jump into any situation.."
With Jennifer and Dan Davis as the fearless and courageous leaders of our organization, I think it's fair to say that we are all glad and proud to be a part of their extended family and this transformative organization. One of our favorite things about Jennifer is that she allows us to make mistakes but also reach our potential as individuals. Jennifer explained to me that it's important that people own their mistakes. "Mistakes are the only things that you can own in life and we are all capable of making them", she said. Jennifer went on to say that every Davisware team member needs to be capable of making decisions on behalf of the organization. With this in mind, it allows us to work as a team. This gives Jennifer confidence in us, and us in her. Let's take a moment to cheers to Jennifer Davis as our only but favorite President!
Throughout her life, Jennifer has been dedicated to bettering herself and pushing herself to accomplish more every day, with zero intention of slowing down. Her motto is, 'We are only held back by what is in our head's not our capabilities'. In other words, try everything! With that, over the next 5 years, Jennifer plans on taking Davisware to the next level. Her goal; our goal, is to better support our customers through the complete end-to-end spectrum. "We want to ensure that we're solution solvers for all of our customer's needs and our goal is to make sure our customers are the most educated customers in the space."
Be sure to follow us on our journey! To learn more about Davisware, please visit davisware.com.