From visibility to credibility, Industry Trade shows are a benefit to both business owners and consumers. These conventions and trade shows have a specific market or niche they focus on. They help by creating a company presence, big or small, that serves as a great way to meet both new and existing customers.
Trade shows provide the opportunity to gain highly targeted leads, and market your products to a larger audience. Read the following benefits that these event offer, how to find the right one, and why YOU should be attending them below!
How Do You Select the Appropriate Trade Show?
Trade shows can create buzz for a new product or service, aid research, and expand your network. The benefits your company receives depend on the trade show you choose to attend. When determining whether to attend a specific trade show, consider the following:
Research
Create a budget
Know the audience
Check availability and location
By evaluating these five attributes in trade shows, you can feel confident that you have selected the appropriate trade show that will benefit your business the most!
How Does This Help Develop Your Brand?
Every trade show is an opportunity to gain exposure and broaden your company's customer base. The people attending trade shows are usually interested in the opportunities, products, and services being offered at that specific trade show. Typically, attendees are more willing to close a deal on the spot than other potential customers. Therefore, placing yourself at the location where these deals are being made is critical!
As you know, branding is a huge part of a business's success. By promoting what your business has to offer, you show that your company elite enough to snag a spot amongst all industry leaders. Which in turn, gives you even more exposure when you place yourself near the more recognizable brands.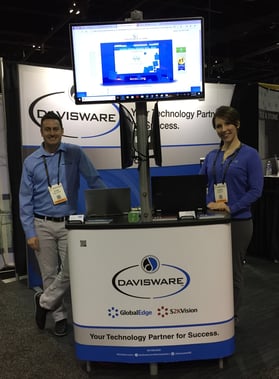 3 Keys to Establishing Your Brand
Use eye-catching displays and banners to make your exhibit pop
Position your exhibit next to industry leaders to improve your brand
Be active on social media so you can connect with attendees
Trade shows are great opportunities to reevaluate your business because you can see what is working and what isn't! You can also scope out the competition and see if your business can benefit from any of the current trends.
What Networking Opportunities Do Trade Shows Offer?
Out of all the perks of going to a trade show, networking is one of the most important reasons to go to trade shows. Why? Because you have the opportunity to spark conversation and initiate a relationship with anyone who steps foot in the event. This is also a great way to find not only potential leads, but also potential business partners. At your next trade show, try the following networking tips:
• Make yourself visible
• Talk to strangers
• Be approachable
• Arrive early, stay late
• Keep in touch
Networking is a great way to get advice or recommendations for the problems you may be facing. It's always helpful to learn the best practices others are using to allow your business to develop and grow to its full potential.
Remember that making a trade show experience a success doesn't end when the trade show is finished. A trade show is a source of leads, not clients. Follow up on all leads with phone calls, and add new contacts to your newsletter, direct mail, and/or e-mail list. Take plenty of time to prepare. Trade shows are a big investment. Make it worth it for you and your business. Attending trade shows is an incredible opportunity to improve your business. Have the right mindset and get the most out of the event!
To learn more tips on how you can benefit your business, click here!