Rick Killeen is Davisware's newly appointed Product Manager for both ServiceSync and FieldVision software. He has been a part of the Wintac/Davisware team for eight years now. During this time, he has fed his insatiable interest of innovative problem solving by beginning his company career assisting Wintac customers to the best of his ability. As I sat down with Rick, it was obvious that he was more than ready to dive right into his new role as project manager and bring ServiceSync and FieldVision to market! "I couldn't be more excited about our future," he begins, "The ServiceSync and FieldVision products are going to be a generational leap forward for us and will serve as foundations for us here at Davisware to bring some really incredible functionality and technology to our customers. Our immediate goal is to bring these products to market over the next year, and from there I think the sky is the limit."
When asked how the development of technology impacts the way we conduct business, he answered with "I think how technology hasn't impacted business is the better question. The tools we have available to us today would have seemed like science fiction when Davisware was founded back in 1988. Some of the design & collaboration tools we use now on our team make the process of presenting mockups to our users and gathering feedback incredibly quick and easy. I'm really looking forward to getting more customers involved in our design process, I think having the end user involved in the process is essential."
What makes Rick so great at his job is not only his six years of experience in a sales role but how well he has worked with thousands of companies within the industry. He has always put an emphasis on hearing and solving the challenges that customers face. Rick goes on to explain, saying "I believe that as a Product Manager I'll have that same goal but will be in a better position to ensure that our products solve the challenges our customer's face." Now, that's the 'can do' attitude we love!
His colleagues would describe his personality as passionate but fun. "I like to keep the mood light but have always challenged us to push the envelope. I won't be the loudest person in the room, but I do enjoy making conversation with colleagues about anything from work related matters or who won the hockey game last night."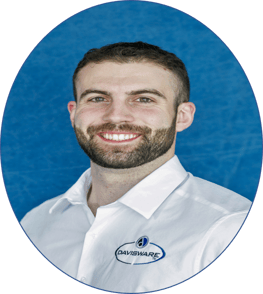 At Davisware, we have a balanced culture and Rick has naturally embraced it. In his own words, "We all work hard but try to have fun while we do it. There'll be days where the office is calm and others where nerf darts are coming at you from all angles. I personally like to challenge the status quo and look for ways for us to improve and grow as an operation." Effectively communicating with others and keeping our team on the same page are other ways he likes to contribute. When Rick isn't hard at work in our Woburn office, you can find him spending time with his two sons! He enjoys any outdoor activity from slow-pitch softball to running & going on hikes. We are so fortunate to have Rick Killeen as part of our Davisware family and cannot wait to see all the great things he'll accomplish as Project Manager!