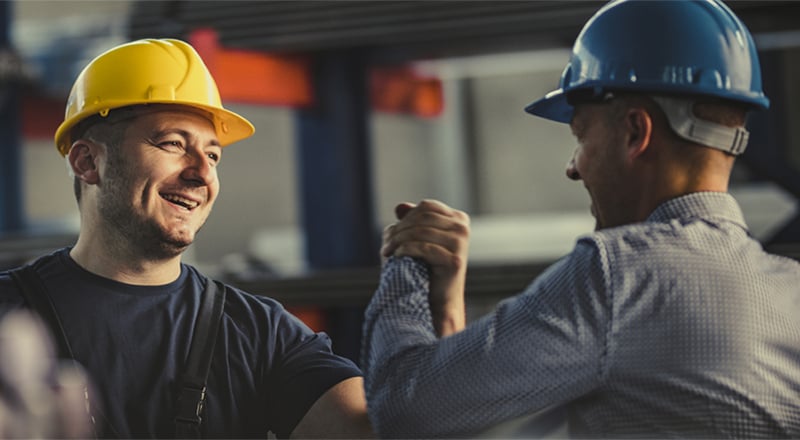 Field service company leaders experience unsolvable problems on their way toward growth. In most cases, an unsolvable problem includes massive challenges, such as a disruption in the market, a dried-up labor pool, inadequate cash flow, or a lack of business efficiency. However, the best business leaders don't shy away from or ignore these unsolvable problems. Instead, to overcome them, they use an exponential mindset to hit them head-on, expect conflict, and confront it.
What are unsolvable problems?
Make no mistake—unsolvable problems exist. In the field service industry, there are thousands of unsolvable problems that will pop up that you can't change the outcome of. COVID-19 has surfaced unsolvable problems left and right. For instance, if your business is a commercial food equipment service company serving restaurants or an HVAC company serving schools, you couldn't do anything to reopen your customers' operations during the pandemic. However, with an exponential mindset, field service leaders have found a way to use those unsolvable problems to power their efforts.
How can field service leaders rise above unsolvable problems?
When confronted with unsolvable problems, strong leaders will use an exponential mindset to steer around the unsolvable and use the market to their advantage. For instance, when the pandemic started affecting restaurants, Coker Services, Inc., a long-time Davisware customer decided to invest in and promote the use of carryout with customers. The company began buying daily lunches for frontline, essential workers from its customers and used these moves to broadcast its messages on a public platform.
Ultimately, Coker Services decided to retreat and reload rather than recoiling and becoming stagnant. As a result, its business was overwhelmed by customer loyalty, support, and a new generation of customers.
COVID-19 wasn't a problem that field service leaders could solve. What they could solve was how they reacted to the problem. Our reactions drive the success of the organization, not the problem that is deemed unsolvable.
How can you use an exponential mindset to overcome unsolvable problems?
First and foremost, solutions can only exist if we define them and believe they are possible. Without the first of the seven principles that focus on the expectation of success and a clearly defined vision of success, it will elude us. That's why it's critical to capture and broadcast that definition of success throughout your field service business. Here's how to use your definition of success to push your business forward:
Write it down.
Share it.
Hold yourself accountable to your vision of success.
Repeat it to yourself to ensure it doesn't shift.
After you have your vision of success guiding your efforts, you've laid the groundwork to overcome unsolvable problems. There are a few steps to take when unsolvable problems surface:
Identify your unsolvable problem.
Decide what your

SMART (specific, measurable, achievable, relevant, and time-specific)

outcome is.
Pinpoint the problem's demands.
Evaluate your resource inventory.
Brainstorm possible solutions.
Determine what additional resources you need.
Create your plan.
Every organization gets better when the leader gets better, and never define "done" as a destination. Instead, "done" should start the feedback loop for future improvements to the process or the solution. Success and failure are both a part of the results of an exponential mindset.
Embrace technology and let data drive your decisions.
Leaders are often too close to the problem to recognize the solution. This is where data becomes critical. Growth-minded leaders can use data to find and compare trends. As a whole, businesses across the field service industry will share problems. The best way to solve the problems that your business is facing is to look around and look up. Learn from your own business, but also learn from those around you.
Consider the unsolvable problem Blockbuster and Netflix faced as the public moved toward streaming services. They faced the same problem, but Netflix saw a future through a first principles mindset—one that required accessibility from all streaming platforms.
Netflix attacked the industry problems that needed to be solved with a first-principles mindset. Unlike Netflix, Blockbuster burned its own bridges by failing to collaborate with future competitors. In the case of Netflix, the company showed that reverse-engineering complicated problems is the best way to unleash creative possibilities.
Ultimately, the power lives in working together. Today, we have more data available to us in a single day than someone in the 15th century had in their entire lifetime. The value of this is priceless. Use this resource to inform decisions and accomplish new outcomes that surpass what others are accomplishing.
Embrace an exponential mindset, conquer problems, and grow.
In the field service industry, unsolvable problems will continue to stand in your way. However, by defining success, embracing an exponential mindset, using data to power your plan, and working with the broader industry, you can navigate these roadblocks. What's more, with a growth mindset, you can use these problems to fuel plans and help the business streak toward more growth and higher profit.