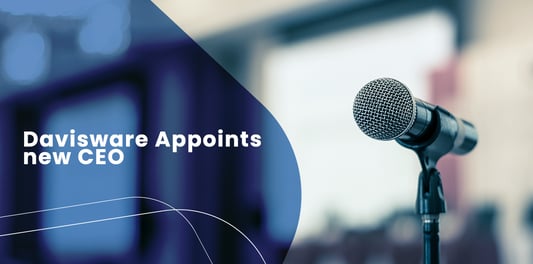 Davisware, a leading provider of cloud-based software for commercial field service companies, is proud to announce it has appointed Tasos Angelopoulos as Chief Executive Officer (CEO).
Tasos brings deep expertise in the field services industry and more than a decade of executive leadership and operational experience to Davisware. Most recently, Tasos was the Chief Operating Officer (COO) at Davisware. During his tenure as COO, Tasos orchestrated the launch of new innovative SaaS products and facilitated a period of hypergrowth into new market verticals.
"I am deeply honored to take on the role of CEO of Davisware. It's an exciting time to be leading the company. The field services industry continues to evolve and create unique opportunities to fortify Davisware's position as an industry leader," added Tasos, CEO of Davisware. "I firmly believe in the company's customer-centric mission and the remarkable talents of the Davisware team. Together, we will embark on an exciting journey of growth, innovation, and value creation," he concluded.
Previously, Tasos was the Vice President of Sales and Revenue Operations at SMS Assist, a facilities maintenance technology company, where he was responsible for leading go-to-market sales strategy, corporate development, and strategic partnerships. Prior to his role at SMS Assist, Tasos was a management consultant at PwC, where he advised Fortune 500 clients on M&A, international growth opportunities, and technology transformation.
The appointment follows a period of exceptional growth at Davisware following Serent Capital's investment in 2019. The company continues to grow recurring revenue by 30%+ with industry-leading retention rates and new product innovation. Davisware has secured or expanded a number of strategic partnerships across the industry, including with Parts Town, Tech-24, and Middleby.
Jennifer Davis, Co-Founder of Davisware, commented, "Tasos' extensive background in the field services industry makes him an invaluable addition to our team. His strong commitment to partnering with our clients positions him as an exceptional successor and CEO. I look forward to watching Davisware, Tasos, the Davisware team, and our customers succeed together."
"We are delighted to have Tasos leading the company as CEO. Through his prior role as COO and Head of Go-To-Market, he has a deep understanding of Davisware's people, platform, and customers, not to mention he brings a tremendous amount of industry experience," said Stewart Lynn, Board Director at Davisware and Partner at Serent Capital. "Over the last couple of years, it's been clear that Tasos embodies the values of Davisware and has made a meaningful impact within the company. We look forward to working with him as he continues to build on Davisware's momentum."
About Davisware
Davisware is a rapidly growing, leading provider of business management software to commercial field service organizations in the United States and Canada. Core industries served include petroleum equipment services, commercial food equipment services, and commercial HVAC. Headquartered in Chicago, Illinois, the company offers two premier SaaS solutions, GlobalEdge and Vision, that give businesses one fully integrated platform for all their operational, financial, and field needs in real-time. The company employs a diverse team who combines deep technical and industry expertise, along with the most current technology, to provide their customers with the tools and operational best practices that generate business-wide efficiencies, and greater profits. In 2019, Serent Capital made a meaningful investment in Davisware, which supports Davisware's plan to further expand and strengthen its technology and customer support. For more information, visit davisware.com.
About Serent Capital
Serent Capital invests in growing businesses that have developed compelling solutions that address their customers' needs. As those businesses grow and evolve, the opportunities and challenges that they face change with them. Principals at Serent Capital have firsthand experience capturing those opportunities and navigating these difficulties through their experiences as CEOs, strategic advisors, and board members to successful growing businesses. By bringing its expertise and capital to bear, Serent seeks to help growing businesses thrive. For more information on Serent Capital, visit www.serentcapital.com.