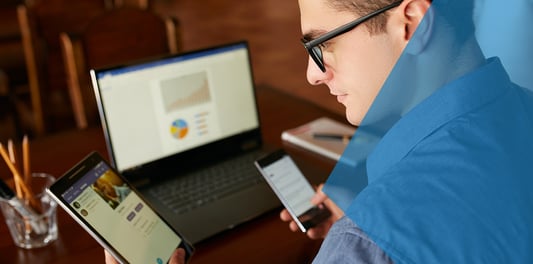 Every company runs its business in a way that will meet their specific needs and that of their customers. However, for the commercial & residential doors industry, while field service management software helps streamline many workflows, the requirements to run their business at maximum efficiency are much different than most service contractors. For many door service companies, introducing technology to help run the business more effectively can be intimidating and even cause anxiety for its employees. But, with a customizable all-in-one solution supported by a provider that understands the industry's growing needs, the transition can be made with confidence.
Many software companies claim that their solution is adaptable to any environment or is a one-size-fits-all, however, that will not work for door companies. Additionally, many of these companies service both commercial and residential customers, which are handled differently in the back office and in the field. From inventory management to scheduling, quoting to invoicing, and customer interactions, door companies have a unique way of running their business. A partner that can offer a nimble solution is ideal.
"We were looking at software options for a while, but there was never really a good fit for our company. Other options couldn't accommodate our needs with the features they offered. Davisware did." ~ Aaron Holstein, General Manager, AE Door and Window, Co.
When evaluating a software solution to help your commercial & residential door company streamline its operations, improve cash flow and increase productivity, it's worth the time to assess these critical areas:
Tracking specialized equipment.
Once equipment is installed, having proof and history of the item(s) on a customer's record is an important factor for door companies. The ability to save pictures, tag an item on any order, and attach notes supplies both the company and their customer a wealth of information at any given time.
Optimizing inventory.
When this feature is set up properly, the software should help manage inventory more efficiently. Automation happens when the workflows in the software are set to track parts usage and alert you when replenishment is needed, therefore triggering purchase orders so your inventory remains at an optimal level. You should also gain better visibility of your stocking locations, including trucks out for service and installations.
"Inventory tracking in real-time is a valuable tool. We can view what was used, what's left in inventory, and what's on a truck. We're also able to see what we have available for customers who have an immediate need." ~ Aaron Holstein, General Manager, AE Door and Window, Co.
One system for accounting.
Merging all your accounting tasks into a built-in accounting system removes the risk of errors often caused by using multiple platforms. Having one system that handles all your accounting needs provides you with an accurate view of your doors business down to specific details like inventory assets, gross profits and other critical metrics. Increased productivity and measurable data are the result.
Connecting your technicians to your office.
Putting the power of knowledge into the hands of your technicians instantly speeds up productivity and improves lines of communication between the office, the technician, and the customer. Your techs should be able to view customer history with just a few clicks on their mobile device and address any equipment issues or questions without delay.
360-degree view of your financial picture.
Having access to relevant reports and up-to-the-minute data visible on user-friendly dashboards that meet your needs is critical to understanding all aspects of your doors business. With an all-in-one system, you have access to several hundred pre-built reports, and more if you require custom reports for a unique situation.
Giving your customers access to their relevant details.
Your customers are increasingly looking for ways to streamline their workflows and thus, do some self-service. They want to view their equipment and service history, track their warranties, view quotes and more. Having a system that allows that sharing of information will elevate your customer's overall experience and your transparency builds loyalty.
Generating a quote while on a job.
Time means money. When your techs can create a quote from their device while in the field and have it delivered immediately to the customer, the time savings adds up. It can also speed up the acceptance rate and turn it into a sale, right on the spot. No more written quotes to be hand delivered.
"How we communicate with our customers and with providing quotes electronically now, makes all the difference. The automation records everything and eliminates any paper trails." ~ Aaron Holstein, General Manager, AE Door and Window, Co.
Run, report on, and securely manage payments from anywhere.
Getting paid faster and enhancing your customer's experience is a win-win. Be sure that your software allows both your office staff and technicians to take payments in real time without leaving your software environment, saving you both time and money.
This is just a short list of what your company should concentrate on when evaluating software to fit your current and growing needs.
However, an important aspect to keep top of mind is how your chosen software provider will implement all these features and the overall system.
Will you have a primary contact throughout your implementation process?

What type of training will you receive while going through the process?

And more importantly, what type of care will you receive once your company is officially live and using the software?
Davisware checks all the boxes and has the answers to these questions and more. Schedule your demo today and see why other commercial & residential door companies rely on Davisware to support their business.