If you run an HVAC business or are a technician yourself, you know how important practicing safety is. As the technology used for jobs continues to change, the safety precautions evolve as well. Which is why time should be set aside in every business to address potential safety hazards and strategically decide what precautions are required. Danger can be hidden in some of the most unsuspecting places, which is why we've taken the time to identify the top HVAC hazards along with safety tips that you can use in the field.
Electrical Hazards
As a professional HVAC tech, you know it's critical to de-energize all equipment before starting any inspections, tests, repairs, and other servicing procedures. However, some safety tips you can use to make sure you avoid electrical accidents are double checking if the circuit you're working on is still energized by using a meter that is correctly rated for the circuit you're testing. Most importantly, always use proper lockout and tag procedures successfully, this way someone can't accidentally turn on the power while you are stilling working!
*For more information on safety on electrical design, installation, and inspection, go to the National Fire Protection Association.
Chemical Exposure
One of the many danger out there is the exposure to potentially dangerous chemicals. Most technicians work with a wide range of chemicals such as cleaning liquids, refrigerants and even gases that can cause extreme burns. Even though a lot of refrigerants are classified as "safe" by the manufacturers, that doesn't mean that once it is in your hands it will remain that way. The truth of the matter is that the chemicals' toxicity increases when exposed to heat. Ultimately making most chemicals a risk to your health. Make sure you are prepared when handling chemicals and use safety glasses and protective footwear for protection:
For information on proper handling and storing glass containers in your service van, visit the American Welding Society.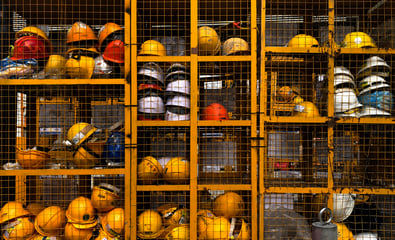 Failure to Properly Manage Equipment Inventory
To avoid putting yourself at risk and rushing from job to job, try taking time out of your day to determine the types of tools you might need for any upcoming jobs on your schedule.
Not only is it unprofessional to show up to a job with tools that are not functioning properly, but it is extremely hazardous. So next time you're about to depart for your scheduled route, take some extra time to test your required tools. By doing this, you are ensuring that the condition of your tools will not be compromised, and you can arrive on site with the confidence needed to complete the job successfully!
Respiratory Risks
HVAC technicians are most commonly exposed to mold, bacteria, and fungus found in dirty air filters which can lead to respiratory complications. To avoid such health issues wear an industrial-grade face mask to prevent inhaling dangers found in these filters. Depending on the job, you might need to wear a higher grade mask especially if the job is in a confined space. Visit the Occupational Safety and Health Administration's website for more information on respiratory safety standards.
Dangerous Driving
You could be overly prepared for your day of work and be one of the best field service techs on your team. But none of that matters if you don't safely make it to the job. Successfully getting from point A to point B is just as important as the job itself, so make sure you are practicing safe driving. Depending on what state you're in, you'll see different laws associated with reckless driving, and something that constitutes safe driving in one
To avoid rushing and stay safe on the road, make sure you schedule enough time between jobs. If your schedule is not ideal for your driving route don't hesitate to reach out to your dispatcher for alternatives. state may differ in another. To avoid interruptions in your workday, make sure you are aware of the driving laws in your current state. Daily driving is part of the job for most HVAC technicians. But driving recklessly will not only reflect poorly on your company, but it will also put your life as well as others at risk.
There are safety hazards no matter what you've selected as your primary occupation. Even if you have been doing the same job for years, don't take shortcuts and you notice any gaps in your safety knowledge and/or training, reach out to your supervisor for assistance. If you own an HVAC business, make sure you educate your employees on how to practice safety in the field. Safety training should be a routine practice and it's never too late to start.
To learn more tips on how you can benefit your business, click below!