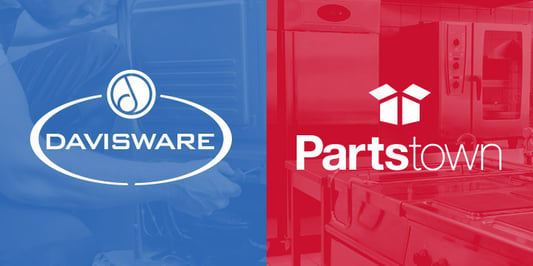 We are excited to announce that we have teamed up with Parts Town to further support field service organizations in the foodservice industry. The partnership includes several key initiatives, such as providing Davisware software users an integrated and simplified parts purchasing process when buying parts from Parts Town, improving efficiency, and ensuring technicians have the right parts to get repairs done quickly.
As the foodservice industry resumes life post-COVID-19, now, more than ever, focus needs to be on business operations that drive cash-flow and profitability. Our solutions allow commercial food equipment service organizations to increase productivity and efficiency, even in cases where workplace resources have been cut or otherwise impacted. Together with Parts Town we are able to help other industry leaders do even more with even less.
In the Press Release, our CEO, Jennifer Davis says, "The industries we serve are currently facing unprecedented challenges. Our new strategic partnership with Parts Town allows us to bring additional value to our current and future partners, helping them to become stronger and more efficient organizations. We have always had a great working partnership with Parts Town and are excited to expand this relationship in a way that helps support field service companies in the foodservice industry and beyond."
Tighter integrations between our two organizations allow us to deliver innovative and cutting-edge solutions that will save time, and money and boost efficiency. On average, the integration saves commercial foodservice organizations 5 – 10 minutes per parts order in addition to a host of other time saving benefits that reduce costs, limit errors, and avoid hiccups during the purchasing and procurement processes.
Integrations of Parts Town into Davisware technology are set to launch in Q3, with market delivery of new Davisware features anticipated later in the year.
If you are interested in receiving real-time alerts pertaining to the release of new features related to this partnership, please subscribe below. We promise not to spam you about anything else!