At Davisware, Inc. we have an outstanding group of employees. This month's employee spotlight will feature our Senior Software Engineer for Wintac Kevin Medeiros, who has been with us for the past 15 years. Kevin is a key part of our development team and is always willing to go the extra mile. Not to mention he is an all-around fantastic person to work with on a day-to-day basis.
Before becoming a part of our team, Kevin had experience with the Wintac software while working at an overhead door company. Which stuck out nicely in his resume during his interview. Kevin started in support then one month into his new role, he was asked to code. "I went to school for Computer Science, so I was familiar with coding and was excited to jump into it right away. My first year at the company consisted of both coding and support. I was given the title as Software Engineer and then Senior Engineer during my second year working with Wintac." From 2006-2014 Kevin continued to work in both coding and support as dual roles. "Currently, I am lead development for RFS, bringing everyone up to date on what our status is and where we're at in terms of development. Although, I don't work with customers directly, assist with making sure tickets move along by either assigning them to a team member or handling the issue myself." Kevin continues to be involved in several departments and always lends a hand. If you see him around the office, you can tell he enjoys having the ability to do what he loves as his primary occupation.

While discussing the rapid growth of technology and how it has impacted the company over the years Kevin explains, "this industry is already an incredibly fast-moving field and it's only going to increase as the year's progress. [While hinting to Moore's Law] It's always rather difficult to match the pace of technology advancements in the sense of development. Which is why attending industry trade shows and conferences are helpful resources to keep up with the latest trends."
When asked out the company culture Kevin grinned and said, "The office is relaxed overall but everyone has a good head on their shoulders to get the job done. We are all passionate about what we do, especially on my side. Being able to goof off for 5-10 mins helps releases stress and although this is a business, you do need to take a break to get back into work and do that much better."
His coworkers would describe Kevin's personality as goofy and sarcastic but also a little tough in the sense that he never hesitates when it's time to put his foot down, "I am very straightforward and I often take on the leadership role when it comes to taking responsibility for mistakes and problem-solving. I also yell," he says with a smile on his face, "it's never at anyone, but you'll know when I'm passionate about a certain topic." Kevin serves as a great leader for the Davisware team, he is always very hands-on and if there is ever an issue, he tackles it head-on!
In his free time, Kevin enjoys hockey, snowboarding, playing darts competitively, and spending time with his wife and two daughters. "I love teaching my daughters new things. I have been teaching them how to skate and they share my passion for cooking, too. I'm looking forward to teaching them more as they continue to grow." You can also find Kevin working on home projects to fuel his hobbies as well. For example, he has a wine cellar in the works. Wouldn't we all like to have that in our homes!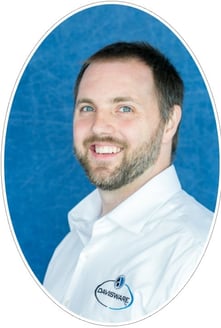 When asked who he admires most he said his mom who put herself through college with three children, saved up to buy a condo, then a house. "My mom made sure all of us went to college and now she has three kids with great jobs. Who knows where we would be today if she didn't push us to be the best versions of ourselves? I'm very lucky to have such an incredible role model. "
Kevin wraps up the interview by adding, "there are a lot of smart and strong people on our team that are willing to take on anything you throw at them which makes our work family as strong as it is!" With that being said, we are incredibly thankful to have Kevin on our roaster for the Davisware team!