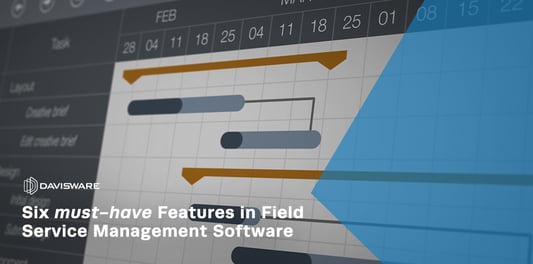 Six must-have features in field service management software.
Choosing a field service management (FSM) software should not be taken lightly. You want to make sure your new software can handle all your current needs and allow for future growth. But with so many options available, how do you choose? Well, according to Tech Target, there are six features you should be looking for. We found this list incredibly helpful and thought we'd dig into each topic even deeper to ensure you've got all your field service management needs covered.
Important

Features of a Field Service Management Software
1.

Scheduling



For your business to run smoothly, dispatchers must have an easy, reliable tool to schedule appointments for customers. You should be able to plan far in advance or have the flexibility to make changes on the fly. The right software can do just that.
It all starts with having full visibility into your schedule. Your field service software should give you a clear view of all planned work orders and recurring service jobs. Good systems can schedule jobs well in advance based on job needs, skill sets, and location. With all of your scheduling information at your fingertips, you'll be better prepared for unassigned jobs and emergency calls. When unexpected changes come up, you should be able to identify technician availability instantly, so you can improve your response rate and customer satisfaction.
Before you pick your field service platform, make sure it has a scheduling system that is quick and easy to operate so you can get the right technician to the right job at the right time.
2. Mobile Access
What is the most important tool a field tech can have on a job? Information. Mobile access to your field service management software gives techs the details they need to get the job done right the first time. For instance, your techs should be able to use their mobile devices to look up work history, customer service representative (CSR) notes, prior job records, and more, empowering them to be more productive and, ultimately, boost your bottom line.
Beyond accessing information, a good field service mobile app should also allow technicians to complete tasks on the spot, like creating quotes and purchase orders, invoicing customers, collecting payment, and tracking time on a job. Some mobile apps can even prioritize the technician's schedule, minimizing their drive time and increasing potential service jobs.
Additionally, a mobile app should have the functionality to allow you and your customers to geo-locate your tech so everyone knows when they're on-site and when the job is complete.
3.

Inventory and Parts Management
Customers don't want to hear problems, they want to hear solutions. They want their equipment fixed, and they want it fixed yesterday. Nobody wants to wait for parts, and with the right inventory management processes, you shouldn't have to.
Look for a software solution that gives you the power to manage inventory with full visibility of your stock levels in all locations including a mobile warehouse, so you can make key business decisions when it matters most. Proper inventory management can significantly impact your cash flow and ensure your customers are satisfied.
Some platforms offer real-time reporting and dashboards that can give you invaluable data to keep cash flowing at optimal levels. Use this data to dive in deep with operational insights and monitor inventory turnover ratio, lead time, days on hand, shrinkage, and gross margin. Within a good software platform, you can easily create and track purchase orders by work order, part order, or stock order so your inventory is always where it needs to be.
4. CRM Component
Clear customer communication is key to a successful customer relationship. Before you choose a field service management software, make sure it has the proper tools to keep you connected with your clientele.

Any capable customer relationship management (CRM) tool should allow you to send instant text and email notifications to customers so they're always in the know. Some platforms even grant customers real-time access to their information so they can self-serve on a variety of tasks. This functionality can be a great tool to help free up your back office, not to mention, it offers a huge boost to the overall customer experience. From scheduling appointments to viewing quotes to payments, and more, your customers have complete transparency throughout the process.
Beyond current customers, some CRM platforms can also help with sales opportunities. You may be able to track leads within the software and create your own workflow, passing the leads to other team members or assigning quotes when necessary. Check with any platform you may be considering to see if it can truly help push your business forward.
5. Billing and Invoicing
Nothing drags a business down quite like sluggish cash flow. Having a software system with invoicing and billing capabilities as a key feature can speed up the payment process and reduce work for accounts receivable.
Look for platforms that streamline the payment process and shorten the time it takes to get money in the bank. Your software should be able to create, send, approve, and pay invoices as quickly as same-day—improving your cash flow and the customer experience. Whether you collect payments in the office or in the field, make sure your platform allows you to receive payments by check or PCI-compliant credit card transaction. Ideally, the entire payment process can begin and end, all on one screen.
With modern technology, you should be able to customize invoice templates to match your customer's specific needs around parts, labor, and equipment details. If you need to include discounts, mark-ups, or flat rates, make sure your platform allows you to do so. With these digital tools at your disposal, you can accelerate the entire invoicing process.
6. Analytics and Reporting
As the world continues to grow increasingly digital, we find ourselves with a mountain of data that could be used to improve operations. The problem? You need to know where to find it and how to use it.
Take a hard look at your platform's reporting tools. You want to make sure it offers essential insights to measure performance and drive sales. With technician productivity data, you should be able to optimize your schedule and book appointments by type of product or length of service with pinpoint accuracy.
Look for a software platform specifically made for field service companies to ensure it has a catalog of metrics critical to your business, such as customer profitability, quote conversion factors, first-time fix rates/second truck rolls, technician utilization, and so on. Good reporting tools should be completely customizable, so you can create any report you want, including cross-departmental data points. Once you've got your analytic metrics set, it should be easy to automatically distribute reports to any team member on an ongoing basis.
With the right data ready, you should have all you need to optimize the financial and operational health of your business.
Davisware's

Field Service Management Solutions
At Davisware, we found this list of Tech Target's six must-have features to be incredibly insightful. We've invested time and resources to ensure we can offer each of these six features and so much more. If you're ready to optimize efficiency and boost your business, give us a call at 847-426-6000 or schedule a demo today.