As the owner of an HVAC company, I'm sure you're aware that you don't have potential customers walking into your office looking to browse your company offerings. Instead, potential prospects are finding you remotely from advertising, word-of-mouth, directories, and especially from your website.
Regardless of where your customers are finding out about your business, most consumers will be visiting your website next. In a local customer review survey by Bright Local in December 2018, it was found that roughly 37% of online users visited a company's website after conducting a Google search for local businesses. The amount of consumers visiting your website is an extremely crucial step towards deciding whether to do business with you or not.
Now, let's take a look at some of the most important features consumers are looking for when they visit an HVAC business website like yours!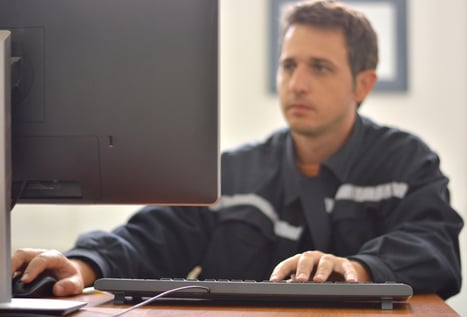 1. A Well-Organized Web Design
Having a well-organized web design will make it easier for your readers to navigate around the site! When entering a website, first impressions are extremely important. For example, if someone found your company through a google search or through a link a friend gave them, this will be the first time you have "contact" with them.
When designing a website, it is always a good idea to work with a professional. Even if you have the means of creating one yourself, the art of website design encompasses numerous considerations and it is best to consult with an expert. This way you can make sure that your site incorporates modern aesthetics with ease of use for anyone who stumbles upon your company online.
Extensive Company Info
Open a new tab and head on over to your company website. Once you're there, how easy is it to locate important business information? As a matter of fact, check your page to identify if you have all the primary information listed on your page. Such as your location, phone number, email address, etc. If you don't, now is the time to add it!
You should view your website as one giant promotional ad for your services. In order to form a positive impression, make sure to feature your business name, logo, phone number, service area and, email address in an easily identifiable location. If a user must scroll and click around to figure how to reach you, it is important to change the location of this info immediately. If customers find themselves struggling to find your contact information with no luck, chances are they will look elsewhere.
Relevant Content
It is important that your content is both complete and visually appealing. A quality website is always well-polished. Meaning, it has no spelling or grammatical errors, no poor-quality visuals, the font size and color match throughout the entire website, etc. There are several reasons to offer valuable content to your site visitors. By offering a variety of high-quality content to your site, you're creating a connection with the readers that are on your website.
In order to get the most value out of your website make sure you have an up-to-date listing of services, products, and pricing. This way readers can gain an accurate representation of what to expect while engaging in business with you. It is also beneficial to have a news tab to inform the people on your site about new deals, events, and company news. Blog articles are another impactful way to keep customers informed about your services and offerings as well as a testimonial page from former/current customers. Along with social media pages (i.e. Instagram, Facebook, Twitter, LinkedIn). Lastly, a photo gallery featuring your team, events, even before and after images of past jobs serve as a great route to communicate with your readers.
What all of this means is that the content you choose to show the traffic clicking through your website really matters when it comes to your company's exposure. Remember that it is important to consistently update your content on your website as you begin to incorporate these tips to your page. For example, update company photos to show the most recent company events and change your promotions as their time restrictions come and go. Once these slight changes become part of your everyday routine, get ready see more traffic on your HVAC website in no time!
To learn more about how to benefit your business, click here!