This October marks the 15th year anniversary of National Cybersecurity Awareness Month. Yes, the National Cyber Security Association has dedicated a whole month to remind us of the risks that are within cyberspace. Are you taking the precautious to make sure your information remains untouched - or are you their next victim?

Online hackers and scams are a major threat because anyone can be a target. Whether you are operating a small to medium sized company or a large corporation, with company data as well as clients personal information online, we are all at risk. However, the only way to stay protected is to educate yourself on the risks that are out there in the cyber world, so you will be able to identify these heinous acts.
Hackers are intelligent, slick and deceiving. Do not make the mistake of underestimating their capabilities. A common misconception among smaller companies is that they believe hacking is unlikely to happen to them. They might feel that their data isn't something hackers would want. However, hackers may not always want your data but what they do want is your money. In fact, a 2017 report from Osterman Research showed that more than one-third of small- or medium-sized businesses around the globe experienced a ransomware attack in the last year out of the 1,054 companies surveyed. Even the big time companies such as FedEx and Equifax credit have suffered through hacking scandals.
Cyber Security was created to secure the technology and systems that are designed to protect our company's systems, networks, and data from these malicious crimes, particularly ransomware. Ransomware is popular with hackers because it is a quick and effective way to get money. It has the ability to lock down computer files using encryption until a certain amount of money is handed over. These companies do often pay, especially if the material encrypted hasn't been backed up prior to the attack. Other examples of cyber hacks are Spam, Pharming, Phishing, Computer Worm and Spyware.
Stay informed and always be vigilant when looking out for attackers. These types of attack can come in multiple forms, typically through email that appears to be coming from a trusted individual or source. It is important to question an email if you are being asked to spend money or provide private information. Always check and validate a source when you receive an email from an unknown user, even if it is a familiar name with a different email address.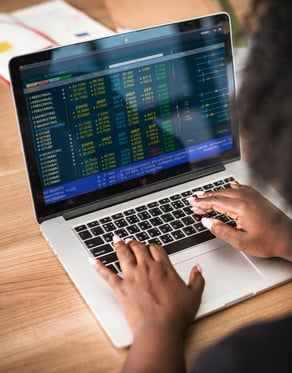 You must always be skeptical. Ask yourself, does the email address match the name it was received from? Take a closer look. Check the title, phone number, and signature provided in the email. By asking all of these questions, you are determining whether or not the request seems legitimate. Lastly, don't reply to an email that you think is a scam. By replying, you are confirming that you exist. This could result in even more future attempts from scammers. To avoid this headache altogether, keep up with the software on your computers and update antivirus on a regular basis.
Other ways to actively protect your company data are:
Training your employees on how to identify these hackers and how to handle these spoofs if ever a target (Sans Cyber Aces Online offers a great online security course that's free!)
Making sure you are actively backing up your company data on a weekly basis on a USB stick, external hard drive or cloud storage, depending on the size/ needs of your company
Working with an outside IT company and/or IT staff to have a disaster recovery plan in place that can protect against and/or enable an expedited recover from an attack.
Falling victim to a cyber attack can leave you with destructive and costly damages for days, months and even years afterward. However, by following best practices, educating your staff on what look out for, and remaining vigilant, you will increase your chances to withstand a potentially damaging attack. Don't forget, attackers are smart! They are always one step ahead and are always looking for new ways to take advantage of their victims. If something looks or feels weird, it's probably because it is a scam!
Get involved: subscribe to our blog here for more insightful tips like this!